DePauw University Bands
Craig Paré, director and conductor
The University Band is a select ensemble of woodwind, brass and percussion musicians, chosen through an audition process. Wind Ensemble musicians are also University Band members and are invited to perform with this distinctive ensemble through this same audition process. Repertoire is selected from a wide variety of high-quality concert literature for both symphonic band and wind ensemble. Auditions are open to all DePauw University musicians.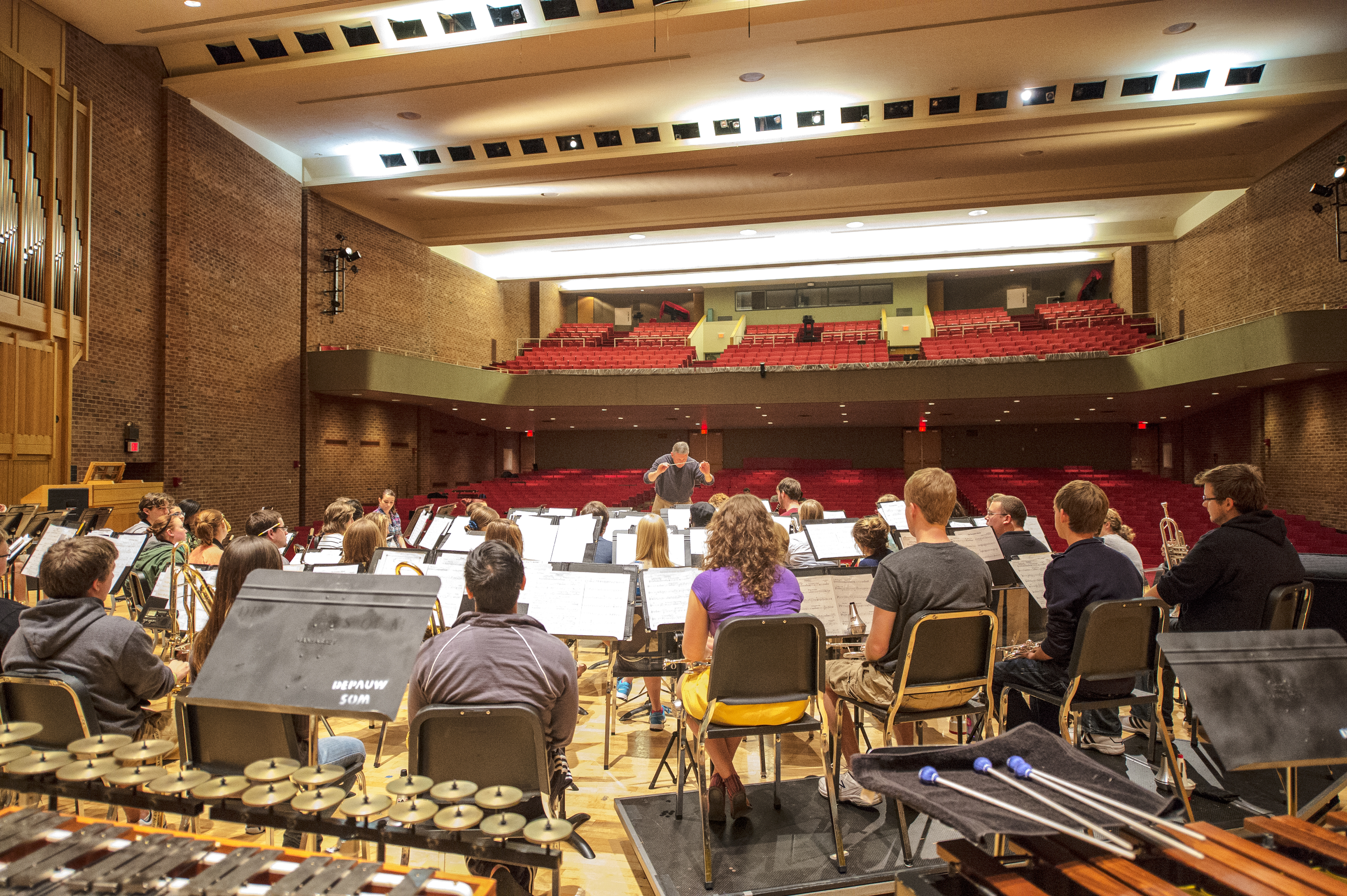 The University Band and Wind Ensemble present five to six joint performances each year. In addition, the ensembles have been recognized internationally for their renowned CD Recording Project, an artistic endeavor dedicated to recording quality wind literature and highlighting the talents of DePauw University musicians. This nine-disc series can be found on the Naxos Online Music Library, Amazon.com, MarkCustom.com, CDUniverse.com, mp3.Rhapsody.com and ArkivMusic.com. The University Band has also been featured on national broadcasts of Wind & Rhythm, a weekly one-hour internet radio program devoted to wind band music hosted by Doug Brown.
The University Band has hosted a variety of renowned guest musicians, conductors and composers including Joseph Schwantner, John Corigliano, Roberto Sierra, Augusta Read Thomas, Chen Yi, Samuel Adler, Libby Larsen, George Crumb, Richard Hundley, James Beckel, Eugene Migliaro Corporon, Jack Stamp, Charles Neidich, Roby George and John Lynch.
SAMPLE DEPAUW UNIVERSITY Band REPERTOIRE
FALL 2014

Friday, September 19, 2014
5:30 p.m.
Bowman Park

DePauwpalooza

Sunday, September 28, 2014
3:00 p.m.
Kresge Auditorium

"ILESH: The Soul's Voyage"
Hanson: Song of Democracy


Sunday, October 5, 2014
7:30 p.m.
Kresge Auditorium

Wind Ensemble Concert
Adams: Short Ride in a Fast Machine (arr. Odom)
Sparke: Sunrise at Angel's Gate
Grainger: Molly on the Shore
Gounod: Petite Symphonie
I. Adagio —Allegro
Whitacre: October
Reed: La Fiesta Mexicana
Prelude and Aztec Dance
Mass
Carnival

Sunday, November 23, 2014
3:00 p.m.
Kresge Auditorium

Hays: Fanfare MMX
Nelson: Lauds (Praise High Day)
Ticheli: Amazing Grace
Beckel: The Glass Bead Game
Robert Danforth, horn
Barber: Commando March
Welcher: Zion
Dvorák: Slavonic Dance No. 1 (arr. Longfield)

SATURDAY, DECEMBER 6 - 7 P.M.
SUNDAY, DECEMBER 7 - 3 P.M.
KRESGE AUDITORIUM

Annual Holiday Gala Combined Concert
Pola and Wyle: It's the Most Wonderful Time
of the Year (arr. Moss)
Cantiones: Good King Wenceslas
(arr. Davis/Longfield)

Spring 2015

Sunday, April 26, 2015
3:00 p.m.
Kresge Auditorium

Dukas: Fanfare pour précéder "La Péri"
Beckel: Make a Joyful Noise
Hartley: Concerto for 23 Winds
III. Lento
IV. Allegro Molto
Bennett: Suite of Old American Dances
Cakewalk
Schottische
Western One Step
Wallflower Waltz
Rag
Daugherty: Desi
Shostakovich: Festive Overture
(arr. Hunsberger)

Sunday, May 17, 2015

10:30 a.m.
Holton Memorial QUADRANGLE

2015 DePauw University Commencement Ceremonies