DePauw University Choirs
The University Chorus
The DePauw University Chorus offers opportunities for both beginning and advanced students. These 60-70 mixed voices perform music incorporating a diversity of choral music, voices, and sounds, including at least one of the great choral masterworks each year. In 2005, the choir welcomed Musical America's 2004 "Conductor of the Year" and 1958 DePauw graduate Joseph Flummerfelt for a three-week residency. The following year, the choir performed Tallis's extraordinary 40-part motet Spem in Alium, and Mozart's Great Mass in C Minor with the DePauw University Orchestra. In 2007-08 the DePauw University Chorus presented Bernstein's great masterpiece Chichester Psalms, in the version for choir, organ, percussion and harp.

The Chamber Singers
The DePauw University Chamber Singers is a select group of singers that performs small-scale choral works and chamber music. Their performances feature music ranging from the early renaissance to the 21st century. This challenging repertoire facilitates the development of skills necessary in becoming an advanced choral singer and musician.

On many occasions, the Chamber Singers have been able to participate in workshops with renowned living composers. Recent examples of this have been with Dominick DiOrio's A Dome of Many-Coloured Glass, Libby Larsen's dramatic cantata Eleanor Roosevelt, DePauw School of Music faculty Scott Perkin's A Stolen Child, and John Corigliano's L'invitation au voyage. The Chamber Singers can be heard many times each semester, both on campus and in festivals and collaborations in the surrounding area. In select years they are able to participate in touring projects across the United States and abroad. In the past several years, the Chamber Singers have toured nationally to Louisiana, Ann Arbor, Chicago, and Houston. Their international tours have taken them to China in 2008 and most recently, Mexico in 2014.
On their 2014 tour to Houston, Texas the Chamber Singers were fortunate to work with Anita Kruse, founder of Purple Songs Can Fly— a program that allows children being treated for cancer and blood disorders at Texas Children's Cancer and Hematology Centers to write and record their own songs in an in-hospital recording studio. During their time in Houston the Chamber Singers were able to visit the Purple Songs Can Fly studio and perform at Texas Children's for several patients and their families. As a part of their work with Purple Songs Can Fly, the Chamber Singers were also able to record Chamber Singer director Gregory Ristow's a cappella choral arrangement of one of the program's songs, Celebration of Hope at ZapBoomBang Studio in Houston.
---
Songs of Old DePauw
Celebrate 175 years of musical tradition with Songs of Old DePauw.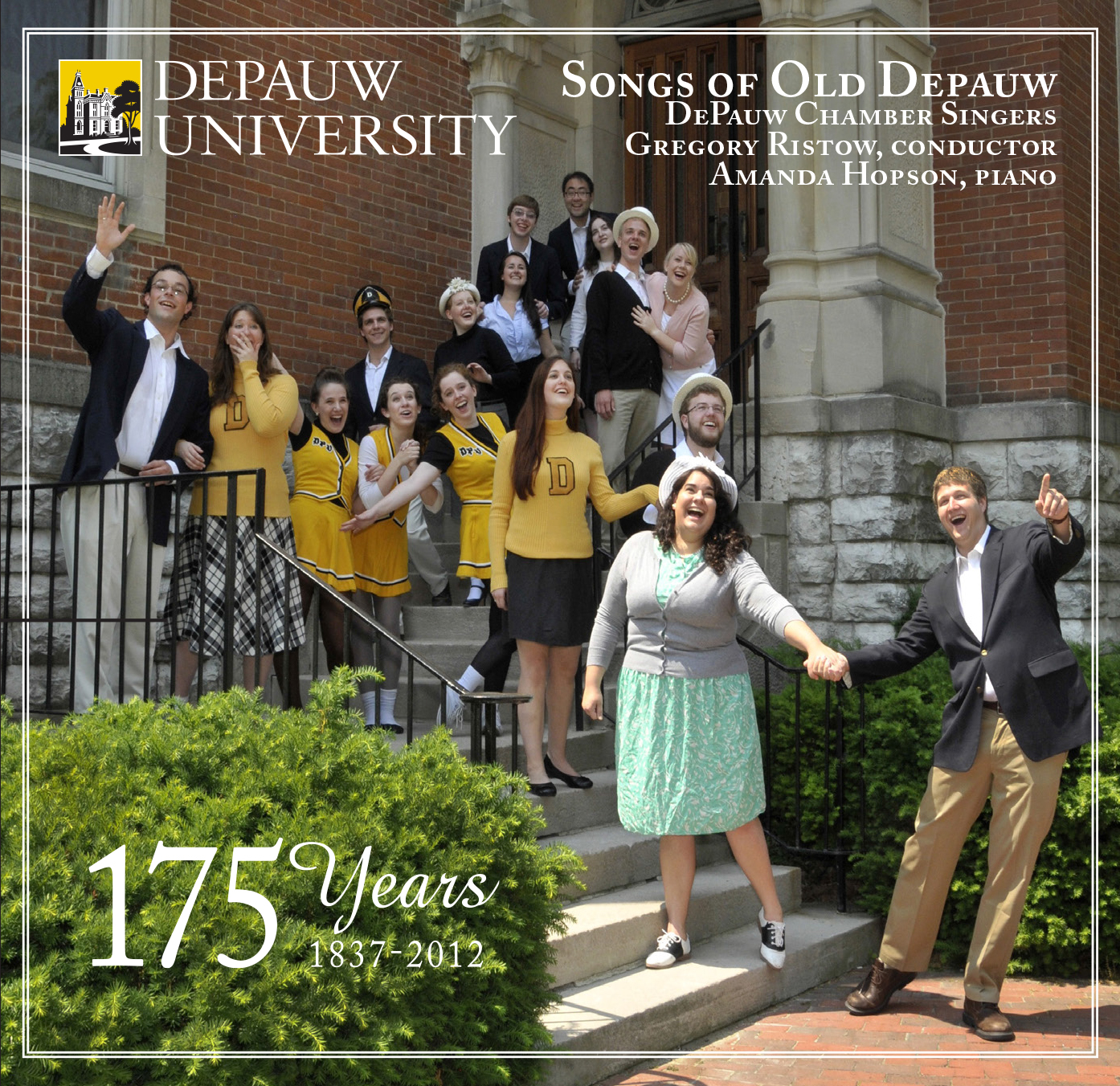 As 2012 and DePauw's 175th anniversary year come to a close, the School of Music is proud to announce the culmination of two projects: creation of the School's new recording label, DePauw University Recordings, and the first recording in the new catalog, Songs of Old DePauw.
The commemorative CD features 21 tracks of music, beautifully arranged and conducted by Gregory Ristow, director of choral actvities, and wonderfully sung by the DePauw Chamber Singers and accompanied by pianist Amanda Hopson. Included on the recording are such favorites as "Old Gold" and "Tiger Yell Song," along with a special tribute track, the unforgettable "Toast to DePauw," sung by the late baritone Dr. Stanley Irwin.
The CD and 16-page companion booklet are available to purchase online for $10 at Eli's Bookstore, in downtown Greencastle, or by mail through the School of Music Office, Room 1124, 605 South College Avenue, Greencastle, Indiana 46135.