DePauw University Orchestra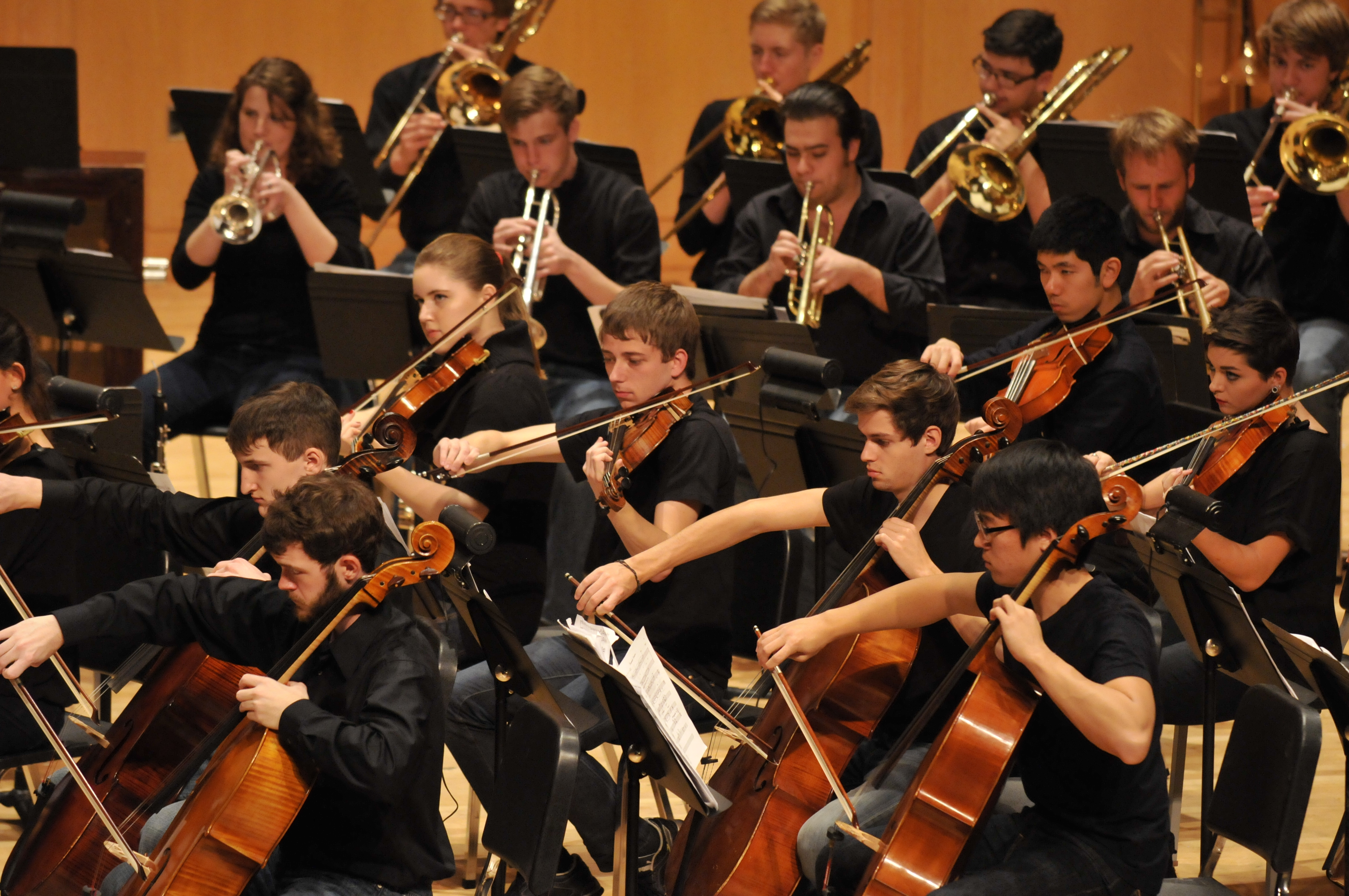 The DePauw University Orchestra maintains an active schedule. The DePauw University Orchestra, an all-undergraduate organization, focuses on performing and reading music of the standard repertoire creating a four-year overview that is a cross-section of music including most style periods, regional influences and genres. The DePauw University Orchestra won an ASCAP Award for "Adventuresome Programming of Contemporary Music" in 1991. It was featured in May and June of 1996 on USAirways in-flight program "Ovation" performing works of Stravinsky, Mussorgsky and Grieg.
The Orchestra not only performs its own concerts (often broadcast live on WGRE-FM and the Internet), it plays for DePauw Opera productions, accompanies student Concerto Winners, and performs with the University Choirs with faculty and guest soloists. Conducting class and Orchestration class students also have benefit of time working with the DePauw University Orchestra.
Performance by the University Orchestra set to film - composition by Seth Tsui '11
DePauw Chamber Symphony
Selected students from the larger DePauw University Orchestra form the DePauw Chamber Symphony. Formed in 1974, the Chamber Symphony performs concert tours during DePauw's January Winter Term. Winter Term is designed for students to focus on a single project. That unique situation allows for an intensive rehearsal environment culminating in touring performances.
The DePauw Chamber Symphony has performed in Japan, Italy, Spain, France, Austria, The Czech Republic, Great Britain, Canada, in Southeastern, Southwestern, Western and Northeastern United States, in Carnegie Recital Hall (NYC) and in the Terrace Theatre at the John F. Kennedy Center for the Performing Arts in Washington, D.C.
2013-2014 Performances
Fall 2013

Friday, September 20, 2013
5:30 p.m.
Bowman Park

DePauwpalooza
O. Smith: Beauty of the Earth Trumpet Fanfare
Jagger: Rolling Stones
Perry: Firework

Sunday, October 5, 2013
3:00 p.m.
Kresge Auditorium

Puts: Millennium Canons
Respighi: Fountains of Rome
Grieg: Piano Concerto in A Minor
Claude Cymerman, soloist

Sunday, November 3, 2013
3:00 p.m.
Kresge Auditorium

ArtsFest: "Art and the Quest"
Corigliano: Promenade Overture
(quest for recognition)
Lully: Overture to Le Bourgeois Gentilhomme
(quest for status)
Rossini: Overture to William Tell
(quest for retribution)
Prokofieff: Lt. Kije (false quest)
Valentin Lanzrein, baritone soloist
Tsui: "Virtus Vitae" (life quest)

Monday, November 25. 2013
7:30 p.m.
Kresge Auditorium

Thanksgiving Week Concert
Mozart: Overture to La finta giardiniera
Beethoven: "Fidelio" Overture
Mussorgsky/Ravel: Pictures at an Exhibition

Saturday, December 8 - 7 p.m.
Sunday, December 8 - 3 p.M.
Kresge Auditorium

Annual Holiday Gala Combined Concert
Arnold: Commonwealth Christmas Overture
Williams: "Somewhere in My Memory"

Spring 2014

Friday, February 14, 2014
7:30 P.M.
KRESGE AUDITORIUM

Music of the 21st Century Closing Concert
John Corigliano, guest composer-in-residence
Corigliano: Promenade Overture
Corigliano: Elegy for Clarinet and Orchestra
Randy Salman, clarinet
Corigliano: Fern Hill
With DePauw Chamber Singers
Gregory Ristow, conductor

FEBRUARY 27 - MARCH 2, 2014
THURSDAY - SATURDAY-7:30 P.M.
SUNDAY - 2:00 P.M.
DEPAUW OPERA
MOORE THEATER

La finta giardiniera (sung in English)
W. A. Mozart, composer
Joachim Schamberger, director
Orcenith Smith, conductor

Sunday, April 6, 2014
3:00 p.m.
Kresge Auditorium

Concerto Competition Winners' Concert


Dvořák: "Měsíčku no nebi hlubokém" ("Song to the Moon") from Rusalka
Emily Barnash, soprano
Prokofiev: Piano Concerto No. 3 (I. Allegro—Andante)
Rachel Robin, piano
Spohr: Clarinet Concerto No. 4 (III. Rondo al Espagnol)
Daniel Hickey, clarinet
Rossini: "Largo al factotum" from Il Barbiere di Siviglia
Blake Lampton, baritone
Saint-Saëns: Cello Concerto (I. Allegro non troppo and coda)
Peter Lockman, cello
Massenet: "En fermant les yeux" from Manon
Lance Orta, tenor
D. Auber: "C'est l'histoire amoureuse" from Manon Lescaut
Julie Strauser, soprano
Saint-Saëns: Violin Concerto No. 3 (I. Allegro non troppo)
Lindsey Sullivan, violin

Sunday, May 4, 2014
3:00 p.m.
Kresge Auditorium

DePauw University Choir and Orchestra Concert
Poulenc: Gloria
Gregory Ristow, conductor
Debussy: Nocturnes (Nuage, Fêtes)
Orcenith Smith, conductor

SUNDAY, MAY 11, 2014
3:00 P.M.
KRESGE AUDITORIUM

Mother's Day Concert with Fifth House Ensemble
and the DePauw University School of Music

"Harvest: A Celebration of the People, Places and Stories of Putnam County"
Joseph Curiale: Prairie Hymn
Aaron Copland: "The Promise of Living" from The Tender Land