DePauw University Orchestra
Orcenith Smith, director and conductor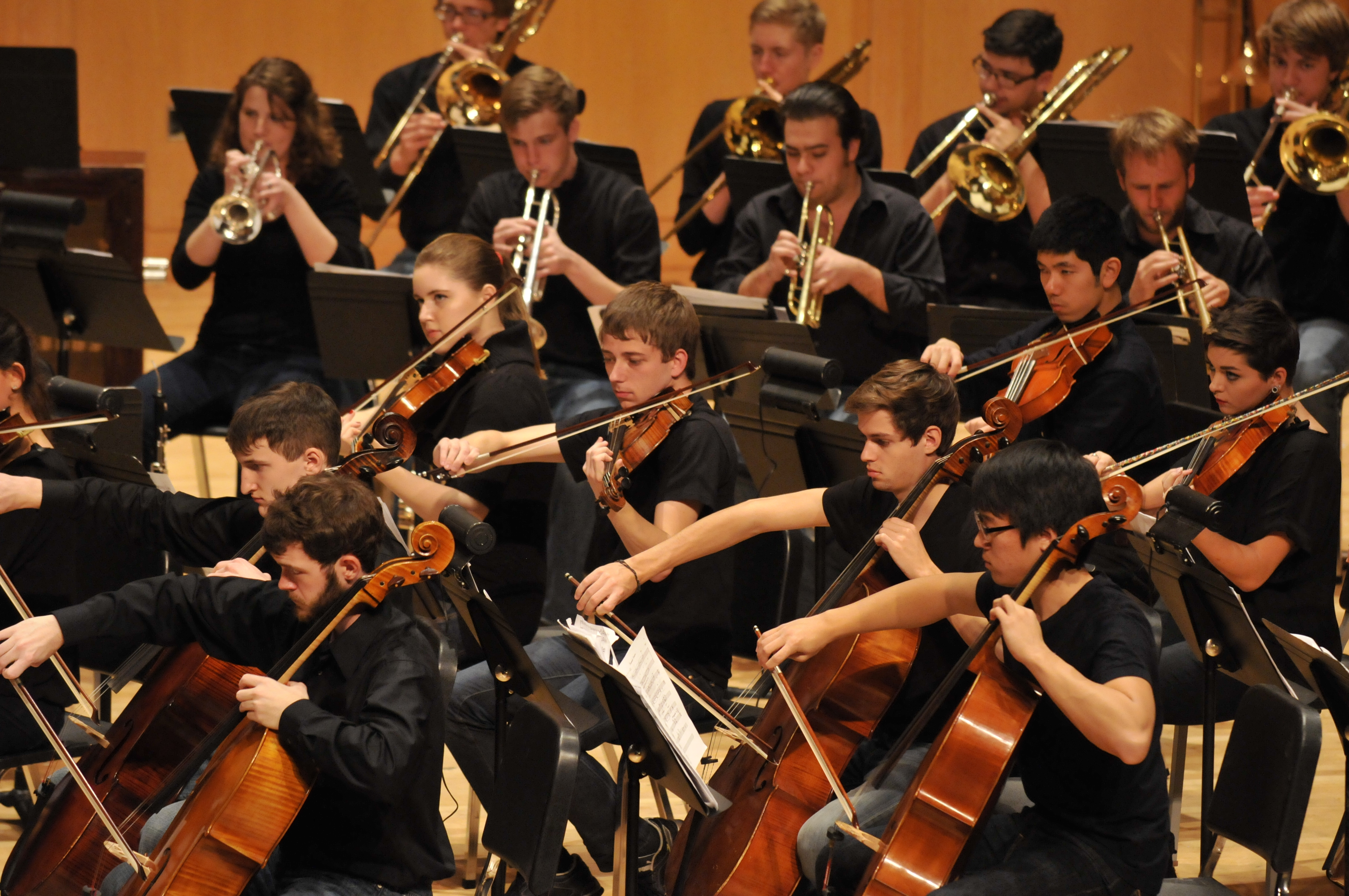 The DePauw University Orchestra maintains an active schedule. An all-undergraduate organization, the orchestra focuses on performing and reading music of the standard repertoire, creating a four-year overview that is a cross-section of music including most style periods, regional influences and genres. In 1991, the DePauw University Orchestra won an ASCAP Award for "Adventuresome Programming of Contemporary Music." It was featured in May and June of 1996 on USAirways in-flight program Ovation, performing works of Stravinsky, Mussorgsky and Grieg.
The orchestra not only performs its own concerts (often broadcast live on WGRE-FM and the Internet), it plays for DePauw Opera productions, accompanies student concerto winners, and performs with the University's choirs, faculty and guest soloists. Students studying conducting and orchestration also benefit from working with the University Orchestra.
Performance by the University Orchestra set to film - composition by Seth Tsui '11
DePauw Chamber Symphony
Selected students from the larger DePauw University Orchestra form the DePauw Chamber Symphony. Founded in 1974, the Chamber Symphony travels and performs during DePauw's Winter Term in January. Winter Term is specifically designed to provide students with time to focus on a single project. This unique program allows for an intensive rehearsal environment, culminating in national and international touring opportunities.
The DePauw Chamber Symphony has performed in Japan, Italy, Spain, France, Austria, The Czech Republic, Great Britain, Canada, in Southeastern, Southwestern, Western and Northeastern United States, in Carnegie Recital Hall (NYC) and in the Terrace Theatre at the John F. Kennedy Center for the Performing Arts in Washington, D.C.
Sample DePauw University Orchestra Repertoire
Fall 2014

Friday, September 19, 2014
5:30 p.m.
Bowman Park

DePauwpalooza

Sunday, September 21, 2014
3:00 p.m.
Kresge Auditorium

Suk: Toward a New Life
Varése: Tuning Up
Brahms: Hungarian Dances Nos. 6 and 5
Rimsky-Korsakov: Capriccio Espagnol, Op. 34
I. Alborada
II. Variazioni
III. Alborada
IV. Scena e canto gitano
V. Fandango asturiano
Strauss, Jr.: Auf der Jagd

Sunday, November 2, 2014
3:00 p.m.
Kresge Auditorium

Dvořák and America Festival
Dvořák: American Suite, Op. 98
Paine: Symphony No. 1 in C Minor, Op. 23
Dvořák/Fisher: "Goin' Home"
Kevin Deas, bass-baritone
Dvořák: Symphony No. 9 in E Minor. Op. 95,
From the New World

Monday, November 24, 2014
7:30 p.m.
Kresge Auditorium

Thanksgiving Week Concert
Monteverdi: Prelude to the opera
The Coronation of Poppea
Woolrich: Ulysses Awakens
Haydn: Symphony No. 95 in C Minor
Beckel: Concerto for Trombone

Saturday, December 6, 2014
7:00 p.m.
Sunday, December 7, 2014
3:00 p.M.
Kresge Auditorium

Fourth Annual Holiday Gala Concert
Williams: Merry Christmas, Merry Christmas
Holst: Christmas Day
Oakeley: "O, Come All Ye Faithful"
Oliphant: "Deck the Halls"
Young: "Silent Night"
Traditional English: "We Wish You a Merry Christmas"

Spring 2015

Tuesday, January 6, 2015
7:30 P.M.
Kresge Auditorium

DePauw Chamber Symphony
Germany/Austria Winter Term Pre-Tour Concert (program repeats in Oberammergau, Salzburg, Sankt Leonhard am Forst and Vienna)
Brahms: Hungarian Dance, No. 6
John Woolrich: Ulysses Awaken
Dr. Nicole Brockmann, viola soloist
Haydn: Symphony No. 95 in C Minor
Brahms: Hungarian Dance, No. 5
Dvořák: American Suite, Op. 85
Cathy Morris: Watch out!
Strauss, Jr: Auf de Jagd (Polka Schnell)
Strauss, Jr.: Pertpetual Motion
Strauss, Jr: Leichtes Blut

FEBRUARY 5 - 8, 2015
THURSDAY - SATURDAY at 7:30 P.M.
SUNDAY at 2:00 P.M.
DEPAUW OPERA
MOORE THEATER

Coronation of Poppea (sung in English)
Monteverdi, composer
Joachim Schamberger, director
Orcenith Smith, conductor

FRIDAY, FEBRUARY 27, 2015
7:30 P.M.
KRESGE AUDITORIUM

Music of the 21st Century Closing Concert
Roberto Sierra: "Carnaval" (Gargoyles, Sphinxes, Unicorns, Dragons, The Phoenix)

Saturday, April 11, 2015
7:30 p.m.
Kresge Auditorium

Concerto Competition Winners' Concert
Mendelssohn: Piano Concerto No. 1
I. Molto allegro con fuoco
Shiyu Su, piano
Gounod:"Je veux vivre" from Roméo et Juliette
Julia Massicotte, soprano
Mozart: "Ah qual gelido orror…Il padre adorato" from Idomeneo
Dana Hart, mezzo-soprano
Bizet: "Je dis que rien ne m'émpouvante" from Carmen
Addy Sterrett, soprano
Weber: Concertino for Clarinet
Natalia Fumero, clarinet
Bernstein: "A Simple Song" from Mass
Dallas Gray, tenor
Gershwin: "Summertime" from Porgy and Bess
Angel Riley, soprano
Tchaikovsky: Pezzo Capriccioso
Peter Lockman, cello
Offenbach: "Les oiseaux dans la charmille"
from Le Contes d'Hoffmann
Julie Strauser, soprano

Sunday, May 3, 2015
3:00 p.m.
Kresge Auditorium

DePauw University Choir and Orchestra Concert
Beethoven: Symphony No. 9 in D Minor
Pamela Coburn, soprano
Caroline Smith, mezzo-soprano
Kerry Jennings, tenor
Charles Stanton, baritone
DePauw Chamber Singers
DePauw University Chorus
Kristina Boerger, director of choirs
Orcenith Smith, conductor