Percussion Ensemble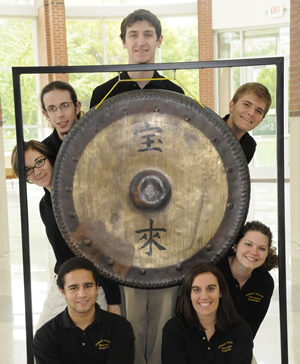 The DePauw Percussion Ensemble is a chamber music group open to percussionists, both music majors and non-music majors, by audition. The percussion ensemble studies and performs contemporary music of many styles ranging from ragtime and jazz to "classic" works, compositions inspired by various world percussion traditions, improvisations and the newest works composed by composers from all over the world.
The ensemble has presented a complete performance of Steve Reich's Drumming with SO Percussion and has also collaborated with the DePauw choirs on such major works as Orff's Carmina Burana and Bernstein's Chichester Psalms.
In February 2012, members of the ensemble performed Joseph Schwantner's new Percussion Concerto No. 2 for percussion section and orchestra during the Music of the 21st Century residency of Schwantner.
Playing in the percussion ensemble helps students learn to become effective chamber music players and to learn contemporary playing techniques and musical styles. In addition to a major concert on campus each semester, the percussion ensemble also performs in the Percussion@Peeler series in the Peeler Art Gallery, plays run-out concerts at area high schools, and appears at other events. We have played world music at the Global Fair, a special Japanese program at the "Stand for Japan" fund-raiser, and lighter fare for events outdoors and in the Prindle Center and the Indoor Track Center. In our performances, we have experimented with lighting effects, costumes, and other dramatic elements.
In recent seasons, the Percussion Ensemble has traveled to three other continents during Winter Term—Europe, South America and Asia. See more information about our travels below.
Winter Term 2012 Tour to China