Percussion Ensemble - 2010 Tour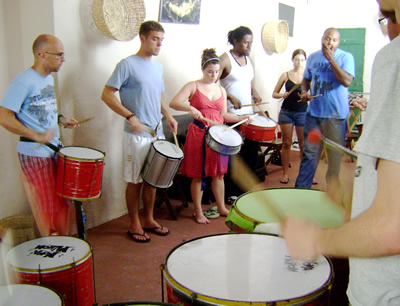 In Winter Term 2010, DePauw percussionists participated in a study trip to Brazil, where we studied and played different samba styles in Rio de Janeiro, Salvador de Bahia, and Recife.
Percussionists on this trip were:
Tony Gourley
Bridget Parker
Josiah Rushing
Patrick Speranza
In Rio de Janeiro ,we studied samba batucada with Guilherme Goncalves at his Rio School of Percussion. We also attended a rehearsal of a local samba bloco, and one of the samba parade rehearsals for the upcoming Carnaval festival with some of the top samba schools at the Sambodromo.
In Salvador de Bahia, we studied the African-based style of camdomble with Ricardo Sousa, the musical director of the famous Ballet Folklorico of Bahia. And we studied the samba style of Bahia, samba reggae, with Mario Pam of the famous group Ile Aiye
In Recife, we studied maracatu with Jorge Martins, who is the founder of the Corpos Percussivos school of music and culture for underprivileged youths in Recife.
Throughout our visit, we had the opportunity to hear many fantastic musicians, and to see some of the most beautiful sites in Brazil.