Flummerfelt '58 Returns for Distinguished Alumni Series

"Conducting a Flummerfelt-prepared chorus is like driving a Rolls just back from a tune-up in the only honest garage in town." – Lorin Maazel, New York Philharmonic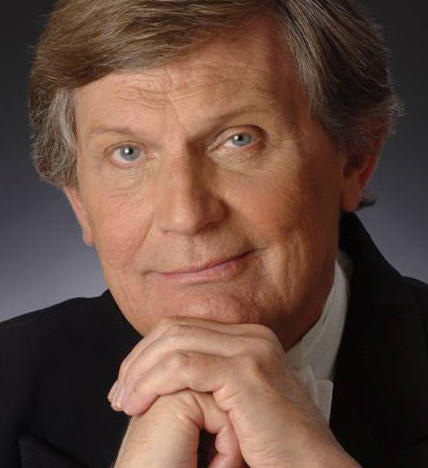 Called "the greatest choral conductor in the world" by Leonard Bernstein and named 2004 "Conductor of the Year" by Musical America, distinguished School of Music alum Joseph Flummerfelt ('58) will return to campus to lead the combined DePauw Choirs in a performance of Bernstein's Chichester Psalms on Sunday, April 7, 2013 at 3 p.m. in DePauw's Green Center for the Performing Arts. The program will be preceded by a pre-concert conversation with the emminent conductor at 2 p.m. in Kresge Auditorium.
One of the nation's most acclaimed chorus masters, Flummerfelt's musical artistry has been heard in concert halls around the world for nearly four decades. He is founder and musical director of the New York Choral Artists, is an artistic director of Spoleto Festival USA, and is conductor emeritus of the world-renown Westminster Choir, an ensemble continually praised for its power of expression, colorful nuance, and elegant balance.
A gifted orchestral conductor, Maestro Flummerfelt has lead over 50 performances with the Spoleto Festival Orchestra, both in Italy and in the U.S. He has also appeared as guest conductor with the New Jersey Symphony Orchestra, Orchestra of St. Luke's, the Juilliard Symphony Orchestra, and the San Antonio and Phoenix Symphonies. In 1988, he made his New York Philharmonic debut with a performance of Haydn's Creation, and in 2001, he conducted the world premiere of Stephen Paulus's Voices of Light with the Philharmonic and the Westminster Choir.
For nearly 40 years, Flummerfelt has collaborated in the preparation of literally hundreds of choral/orchestral performances with such renowned conductors as Abbado, Bernstein, Barenboim, Boulez, Davis, Maazel, Masur, Mehta, Muti, Ozawa, Shaw, and many others.
Maestro Flummerfelt's Westminster Symphonic Choir and New York Choral artists have been featured in 45 recordings, including Britten's War Requiem and Brahms's Ein Deutsches Requiem and Schicksalslied with Kurt Masur and the New York Philharmonic; Mahler's Symphony No. 2 and a Grammy Award-winning Mahler's Symphony No. 3 with Leonard Bernstein; Puccini's Tosca and Berlioz's Romeo and Juliet with Riccardo Muti and the Philadelphia Orchestra; Messiaen's Le Transfiguration de Notre Seigneur Jesus Christ with the National Symphony.
His collaboration with Samuel Barber includes the Grammy Award-winning recording of the composer's opera Anthony and Cleopatra. In 2004, his New York Choral Artists recording of John Adams's On the Transmigration of Souls was awarded three Grammys. Earlier he was nominated for the Westminster Choir's recording of the Haydn Lord Nelson Mass with Leonard Bernstein and the New York Philharmonic, and Berlioz's Romeo et Juliette with Riccardo Muti and the Philharmonia Orchestra.
In addition to his Grammy awards and nominations, the DePauw alum's many honors include Le Prix du President de la Republique from L'Academice du Disque Francais and four honorary doctoral degrees
Widely known as a master teacher, he served as artistic director and principal conductor of Westminster Choir College of Rider University in Princeton, New Jersey for 33 years–a position from which he retired in 2004. Among the many recordings Flummerfelt has made with the Westminster Choir, his recent Delos recording of Brahm's choral works (Singing for Pleasure) was chosen by The New York Times as a favorite among all existing Brahms recordings.
Flummerfelt has been director of choral activities for the Spoleto Festival U.S.A. in Charleston, South Carolina, since 1977 and for 23 years was the maestro del coro for the Festival dei Due Mondi in Spoleto, Italy. He is chorus master for the New York Philharmonic, the founder and conductor of the New York Choral Artists, and former music director of Singing City in Philadelphia. In 1971, Maestro Flummerfelt began his choral collaboration with New York Philharmonic. From 1979 to 2001, both his Westminster Choir and New York Choral Artists were responsible for all of the orchestra's choral performances. Though now retired from Westminster Choir College, the New York Choral Artists continue to appear regularly with the orchestra, and Flummerfelt continues to oversee the choral life of the New York Philharmonic.
General admission tickets to the performance of Chichester Psalms are $3; tickets are free for all students, seniors and children. For additional information or assistance, contact the Green Center, (765) 658-4827. Tickets may be purchased in person at the GCPA Box Office or online at www.depauw.edu/music/tickets.