2nd Annual Holiday Gala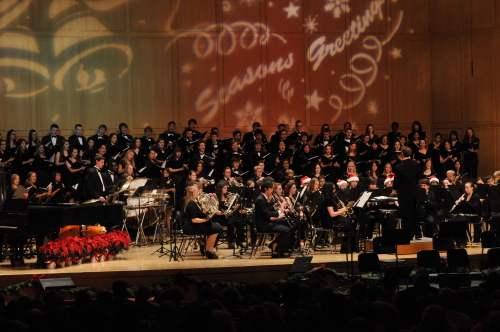 After the overwhelming community response to last year's Holiday Gala, the School of Music announces the Second Annual Holiday Gala featuring music from various traditions performed by soloists and ensembles from the School of Music. The choir, band, orchestra as well as a host of soloists and chamber groups will perform a wide array of holiday music of many traditions and styles. While patterned on last year's event, there are plenty of surprises and lots of great music in store.
This year there will be two performances of the Holiday Gala. On Saturday, December 1 at 7 pm audiences can attend a full-length concert with reception, and Sunday, December 2 at 3 pm the School of Music will present a shorter concert for families and children. It is rumored that Santa Claus may take a break from his hectic schedule for a very brief visit to the Sunday concert.
---
Several local restaurants have partnered with the School of Music to provide dinner specials on Saturday night and ensure customers arrive at the concert before 7 pm. These restaurants will also be giving out vouchers for free tickets to the Holiday Gala.
2 West at the Inn at DePauw – An "Early Bird" special will be available between 5 and 6:30 pm: Ten ounce prime rib, soup, salad, and selected beverages for $17.95.

Almost Home – Call in advance to make a reservation. Plan to dine at 5 pm or earlier and mention you are attending the Holiday Gala to get two deserts for the price of one.

Chief's – Call in advance to ensure seating and plan to dine between 5 and 5:30 pm.

Final Approach - Reserve your table in advance (by 5:30 pm) to ensure seating.

The Fluttering Duck – Mention you are attending the event and receive a free soft drink with a meal purchase

Mama Nunz – A wide variety of dinner options for $20 including ribeye, lasagna, catfish and more will be available.

Monical's Pizza – Mention you are attending the event and receive a free soft drink with a meal purchase.

---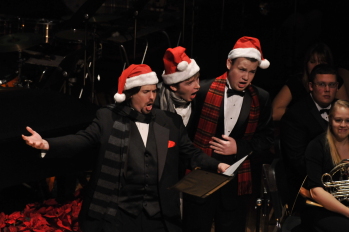 Carolers from the School of Music can also be heard in stores and restaurants on the Greencastle Square prior to the Saturday evening concert, and a reception will take place following the Saturday event.
The Holiday Gala is presented as part of "Greencastle: A Home for the Holidays," in an effort to tie together various events in the Greencastle Community. These additional events will take place, providing more holiday cheer
Saturday, Dec. 1, sunset – Luminaries on the DePauw Campus will be presented by the DePauw Bonner Scholars.
Putnam County Giving Tree – Providing desired gifts to families in need of assistance, the Putnam County Giving Tree will be present at both performances of the Holiday Gala for patron participation (provided by the DePauw Civic Fellows), as well as the Lights of Love event (hosted by the Greencastle Civic League).
Tuesday, Dec. 4, 6:00 pm – Greencastle Courthouse – Lights of Love will be presented by the Greencastle Civic League in honor or remembrance of loved ones. Music will be provided by the DePauw School of Music and choirs from Greencastle schools, and luminaries will be placed on the court house square. This event is free an open to the public.
Sunday, Dec. 9, 5:00 pm – Gobin Memorial United Methodist Church – The School of Music presents Readings and Carols, a concert of mid-winter songs presented by the DePauw University choirs. This event is free an open to the public.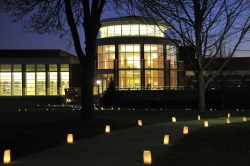 Tickets for the Holiday Gala are $10 in advance or $12 at the door. Tickets for children, students, and senior citizens are free. The School of Music also offers a "pay what you can" option, which allows patrons to purchase tickets for any amount they can afford. Tickets can be purchased online or at the Green Center Box Office. For additional details, call 765-658-4380.