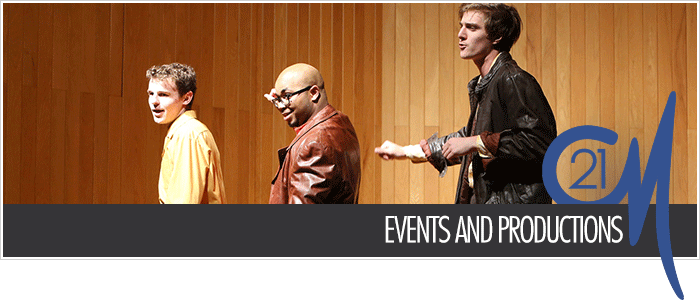 Because of the School's intentionally small size and exclusive focus on undergraduate education, students have exceptional access to a rich variety of performance opportunities and are valued contributors and participants from the start of the first year of college. Students are featured in solo recitals, chamber music and large ensemble concerts, and opera and musical theatre productions. In addition, domestic and international ensemble concert tours, competitions and master classes with renowned guest artists from around the world present additional performing opportunities. The School's robust performance calendar offers more than 150 performances annually.
@DePauwMusic on Twitter
---
Congratulations to all the music students who performed at the @WhiteHouse last month!
1 month ago
RT @Indy_Symphony: The #IPLYuletide performances Dec. 10, 12, 13 & 14 will be conducted by @DePauwMusic Orchestra Director Orcenith Smith!
2 months ago
Prof. Edberg, Dicker, and Phang perform tonight at 7:30 in Thompson! They will perform Mauricio Kagel's Piano Trio No. 3 and Schumann!
3 months ago
Big Woodwind Bash tonight! The Clarinet, Flute, and Saxophone Ensembles are bound to blow us away! 7:30 in Thompson. #AllAboutDatContrabass
3 months ago
Today's concert program also includes works by Ticheli, R. Nelson, and Barber.
3 months ago
Tomorrow's band concert features Professor Danforth, principal horn of @Indy_Symphony, performing @beckelmusic's horn concerto. 3 PM Kresge.
3 months ago
45 years ago
45 years ago
45 years ago
45 years ago
45 years ago
45 years ago
45 years ago
45 years ago
45 years ago