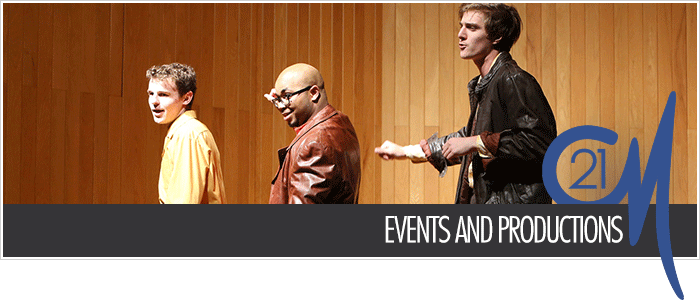 Because of the School's intentionally small size and exclusive focus on undergraduate education, students have exceptional access to a rich variety of performance opportunities and are valued contributors and participants from the start of the first year of college. Students are featured in solo recitals, chamber music and large ensemble concerts, and opera and musical theatre productions. In addition, domestic and international ensemble concert tours, competitions and master classes with renowned guest artists from around the world present additional performing opportunities. The School's robust performance calendar offers more than 150 performances annually.
@DePauwMusic on Twitter
---
Tonight! 7:30. Thompson Recital Hall. Dvořák and the "Indianists' Movement" Concert & Discussion. Don't miss out! http://t.co/hdRyf1zYmm
14 hours ago
Come to recital hour today! We will have guests Kevin Deas, bass-baritone, and Joseph Horowitz, cultural historian. #DvorakFest #21CM
yesterday
Please join us in the Watson Forum for the "Dvorak and the NFL" lunch-hour panel. We will discuss cultural appropriation in the NFL.
2 days ago
Welcome back, students! The Dvorak Festival is in full swing today with class visits from Joseph Horowitz and a masterclass tonight! #21CM
3 days ago
Have a restful, rejuvenating fall break! When we return, get ready for the New World. #DvorakFestival #21CM
13 days ago
Our Faculty Woodwind Quintet performs tonight at 7:30 in Thompson Recital Hall. They are bound to blow us away! #Windsx5
14 days ago
44 years ago
44 years ago
44 years ago
44 years ago
44 years ago
44 years ago
44 years ago
44 years ago
44 years ago