Music of the 21st Century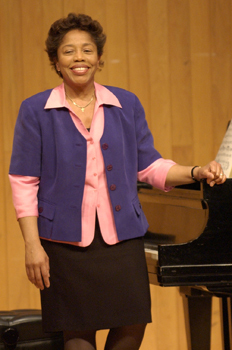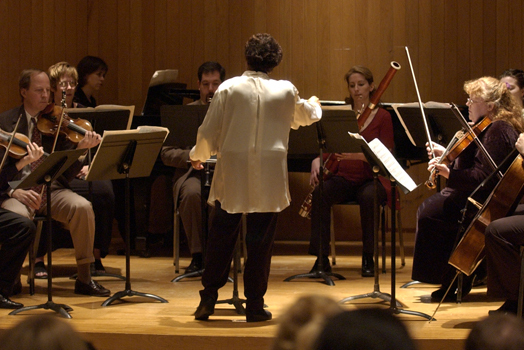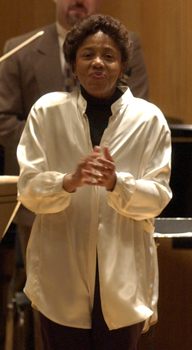 TANIA LEÓN — 2003
Tania León, born in Cuba, a vital personality on today's music scene, is highly regarded as a composer and conductor recognized for her accomplishments as an educator and advisor to arts organizations. She has been the subject of profiles on ABC, CBS, CNN, PBS, Univision and independent films. Ms. León is currently featured on Univision's "Orgullo Hispano" series which celebrates living American Latinos whose contributions in society have been invaluable.
Duende for Baritone, Bata Ensemble and Orchestral Percussion
premiered in September 2003 at the Fest der Kontinente in Berlin, Germany. Commissioned by the Fest in honor of Gyorgy Ligeti's 80th birthday. Another new work, Mistica, for solo piano, was commissioned and premiered by Ursula Oppens.

In recent years, León has appeared as guest conductor throughout Europe, including subscription series concerts of the Symphony Orchestra and Chorus of Marseille, France, the Orquesta Sinfonica de Madrid as well as the Orquesta de la Comunidad y Coro de Madrid, Spain.

In March 2001, León's opera Scourge of Hyacinths received three performances during the Festival Centro Historico in Mexico City. Staged and designed by Robert Wilson and conducted by the composer, the work is based on a radio play by Nobel Prize-winner Wole Soyinka. The opera was commissioned in 1994 by the Munich Biennale, where it won the BMW Prize as best new opera of the festival. In 1999, it was given seventeen performances to great acclaim by the Grand Théâtre de Genève, Switzerland, the Opéra de Nancy et de Lorraine in France and the St. Pölten Festspielhaus, Austria. The aria "Oh Yemanja" (Mother's Prayer) from Hyacinths was recorded by Dawn Upshaw on her Nonesuch CD The World So Wide.

León's orchestral work Desde... was premiered by the American Composers Orchestra March 2001 in Carnegie Hall conducted by Dante Anzolini. Its composition was supported by a grant from the Serge Koussevitzky Music Foundation. Horizons for orchestra was written for the NDR Symphony Orchestra of Hamburg and premiered there at the July 1999 Hammoniale Festival, with Peter Ruzicka conducting. In August 2000, the work had its United States premiere at the Tanglewood Contemporary Music Festival, Stefan Asbury conducting. León herself conducted the work with the Orchestre Symphonique de Nancy (France) in March 2001.

León's hour-long multimedia work Drummin' juxtaposes ethnic percussion ensembles with a large chamber orchestra. Presented with video and dance, the work has received spirited performances in Miami and Hamburg, highlighting percussionists from around the world.

Collaborations with award winning poets include …or like a with John Ashbery, Love After Love with Derek Walcott, Singin' Sepia with Rita Dove, A Row of Buttons with Fae Myenne Ng and Rezos with Jamaica Kincaid.

Since 2000, a selection of commissioned chamber works by León were premiered in venues including the Library of Congress (Fanfarria, celebrating the Copland Centennial), the Kennedy Center (At the Fountain of Mpindelela, in the festival "Africa! Spirit Ascending"), New York City's Merkin Concert Hall (Canto, for baritone Tom Buckner and Continuum), and Joe's Pub at the Public Theater (Ivo, Ivo, for Sequitur).

In 1998, she was awarded the New York Governor's Lifetime Achievement Award and in 1999 received an Honorary Doctorate degree from Colgate University. León has received awards for her compositions from the American Academy of Arts and Letters, the National Endowment for the Arts, Chamber Music America, NYSCA, the Lila Wallace/Reader's Digest Fund, ASCAP and the Koussevitzky Foundation, among others. In 1998, she held the Fromm Residency at the American Academy in Rome.

In 1969, León became a founding member and first Music Director of the Dance Theatre of Harlem establishing the Dance Theatre's Music Department, Music School and Orchestra. She instituted the Brooklyn Philharmonic Community Concert Series in 1978 and in 1994 co-founded the American Composers Orchestra Sonidos de las Americas Festivals in her capacity as Latin American Music Advisor. From 1993 to 1997, she was New Music Advisor to Kurt Masur and the New York Philharmonic. She has made appearances as guest conductor with the Beethovenhalle Orchestra, Bonn, the Gewandhausorchester, Leipzig, the Santa Cecilia Orchestra, Rome, the National Symphony Orchestra of South Africa, Johannesburg, the Netherlands Wind Ensemble, Holland, and the New York Philharmonic, among others.

In 2002, León served as President of the Concorso Internationale di Composizione "2 Agosto" in Bologna, Italy. León also traveled to the ISCM World Music Days 2002 in Hong Kong for the World Premiere of Axon.

Current projects include a new ballet in collaboration with choreographer Donald Byrd and the Mosaic Ensemble, commissioned by the NEA, and a new work for pianist Gilbert Kalish, commissioned by the Gilmore International Keyboard Festival for the Bach Goldberg Variation Project.
León has been visiting lecturer at Harvard University, visiting professor at Yale University and the Musikschule in Hamburg. She has received honorary doctorate degrees from Colgate University and Oberlin College. In 2000, she was named the Tow Distinguished Professor at Brooklyn College, where she has taught since 1985.