Music of the 21st Century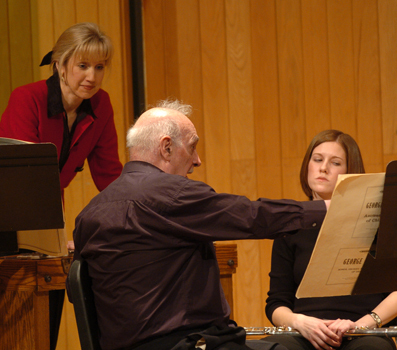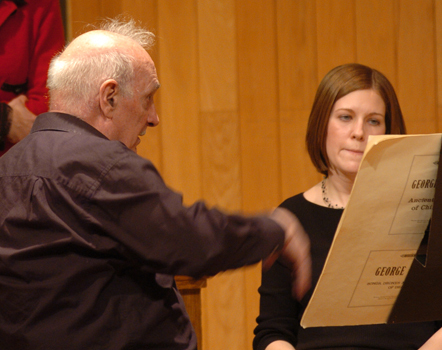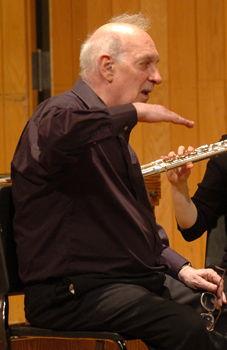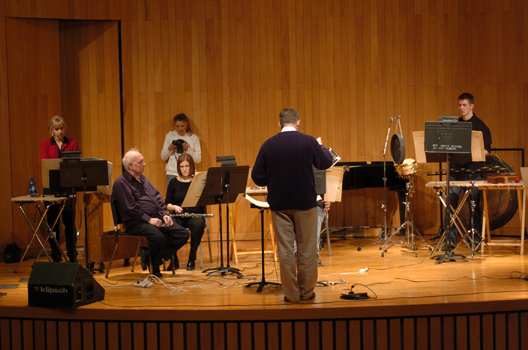 GEORGE CRUMB — 2004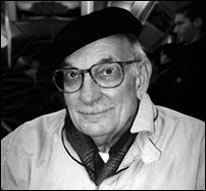 It is a great honor and pleasure to welcome the distinguished American composer George Crumb as our featured artist for this year's "Music of the 21st Century" event, presented by the DePauw University School of Music. One of the most important and well-known composers in the world, Crumb is being celebrated internationally in 2004 in honor of his 75th birthday.
Born on October 24, 1929 in Charleston, West Virginia, Crumb began composing as a teenager. Both his parents were musicians, and as a young pianist, George played in a trio with clarinetist George Crumb, Sr. and cellist Vivian Crumb.

Music permeated his childhood, and he had an excellent opportunity to study the over 400 musical scores in his father's library.

Crumb attended Mason College in Charleston and went on to study composition with Eugene Weigel at the University of Illinois, earning a master's degree in 1952. Crumb regards his principal composition teacher as being Ross Lee Finney at the University of Michigan, where he completed his doctorate in 1959. He also studied with Boris Blacher at Tanglewood and was a Fulbright fellow in Berlin from 1955-1956. In 1959, he joined the faculty of the University of Colorado at Boulder, teaching piano, where he remained until 1964. It was in Boulder that he began to find his individual style, in the Five Pieces for Piano, written for faculty colleague David Burge. After a year as composer-in-residence at the Buffalo (New York) Center for the Creative and Performing Arts, Crumb joined the faculty of the University of Pennsylvania. In 2002, he retired from his position as Annenberg Professor of Music.

Crumb gained global attention for a series of compositions written in the 1960s and 1970s. He has garnered nearly every major international award for composition, including the 1968 Pulitzer Prize for his orchestral work Echoes of Time and the River, a Ford grant, Guggenheim fellowships, the UNESCO Award, the Koussevitzy International Recording Award, the 1998 Cannes Classical Award for Best Compact Disc by a Living Composer, and the 2000 Grammy Award for Best Contemporary Composition. He is a member of the American Academy of Arts and Letters, and the German Academy of Arts, and has been awarded several honorary doctorates. He was recently named Composer of the Year for 2004 by Musical America.

Crumb's music has been performed and recorded by many of the leading artists of our time, including the late Jan DeGaetani, David Burge, Robert Aiken, David Starobin, Gilbert Kalish, the Kronos Quartet, the Aeolian Chamber Players, the Philadelphia Chamber Players, Orchestra 2001, Ensemble Modern, the Chicago Symphony Orchestra, the New York Philharmonic, and many others. He has traveled extensively throughout the world as a guest at festivals of his music.

Crumb feels himself to be very much the inheritor of musical practice of the early twentieth century, and cites his greatest influences as Debussy, Mahler, Bartok, and Ives. Some of those influential works will be heard in juxtaposition to Crumb's works on these concerts.

His own compositional style is rooted in his past, specifically the Appalachian river valley where he spent his childhood, which he says influenced his particular "inner ear or echoing acoustic." This acoustic is a hallmark of Crumb's music—amplification, echoes, extensive structured silence, and long natural decay play an important part in his works. One of his newest works, Unto the Hills, features Appalachian folk songs.

Another great influence on Crumb's music has been the poetry of Federico Garcia Lorca, which he first discovered in the 1950s. He found himself drawn to its intense, surrealistic imagery and simultaneous joyful and tragic moods. Lorca's texts have provided the basis of many of his best works, two of which—Night of the Four Moons and Ancient Voices of Children—will be performed during his residency here.