Music of the 21st Century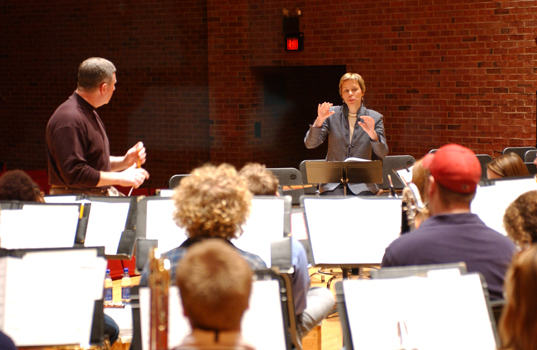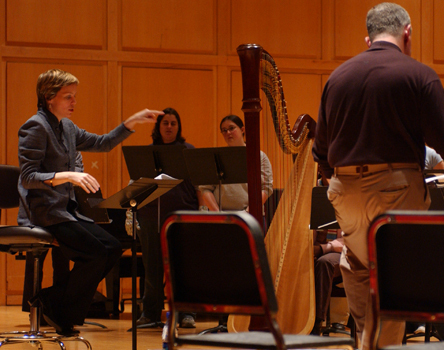 AUGUSTA READ THOMAS — 2005
Augusta Read Thomas, born in 1964 in New York, is a professor on the composition faculty at Northwestern University, and on the Board of Directors of the American Music Center, as well as the Composer-In-Residence for Chicago's Symphony Center. Her work is currently published by G. Schirmer, Inc. At the age of 40, she has amassed an enviable reputation and resume as one of the world's finest contemporary composers, combining a palpable musical enthusiasm and vigorous compositional craftsmanship into wonderfully bold and colorful works.
Growing up on Long Island, Ms. Thomas studied both the trumpet and piano before gravitating toward the world of composition. With strong encouragement from her parents and teachers, she actively pursued this compositional passion, studying with Alan Stout and Bill Karlins at Northwestern University, with Jacob Druckman at Yale University and also at the Royal Academy of Music.

Since this time, Ms. Thomas has received a myriad of awards and critical acclaim for her works from such organizations as the National Endowment for the Arts, the American Academy and Institute of Arts and Letters and the John Simon Guggenheim Memorial Foundation. Conductors including Daniel Barenboim, Mstislav Rostropovich, Pierre Boulez, and Seiji Ozawa have programmed her works. Thomas's orchestral works have been performed by such notable organizations as the Berlin Philharmonic, the New York Philharmonic, the Philadelphia Orchestra and the Chicago Symphony Orchestra.

This past year marked a banner one for Ms. Thomas, displaying both her growing reputation and remarkable musical productivity. In March 2004, the Chicago Symphony Orchestra gave the world-premiere of Tangle with guest conductor David Robertson. September saw two more premieres; the first of these being her song-cycle Gathering Paradise, performed by the New York Philharmonic and soprano Heidi Grant Murphy under the direction of Lorin Maazel. The second was Thomas's Purple Syllables, performed in San Francisco by the celebrated vocal group Chanticleer. In November, Ms. Thomas's Dancing Galaxies was premiered by the New England Conservatory Wind Ensemble.

In addition to these efforts, Ms. Thomas released her second self-produced recording, which includes Words of the Sea, performed by the Chicago Symphony Orchestra under the direction of Pierre Boulez and In My Sky at Twilight, a song cycle performed by the MusicNOW chamber ensemble and soprano Christine Brandes.