Music of the 21st Century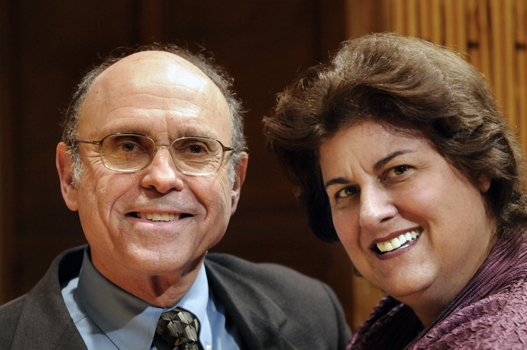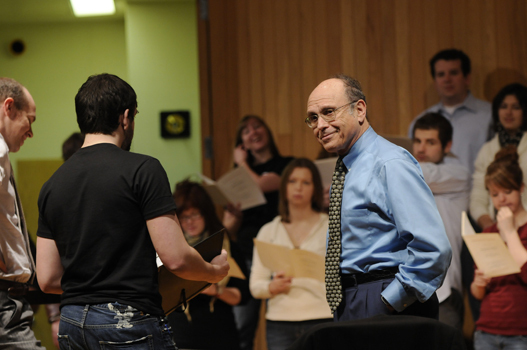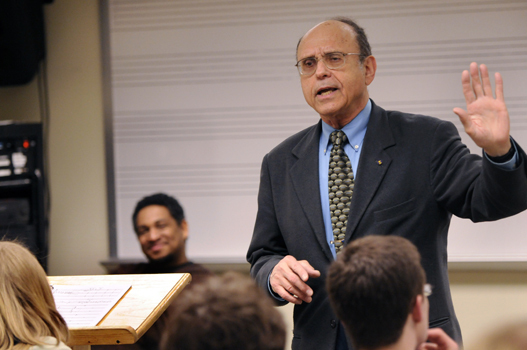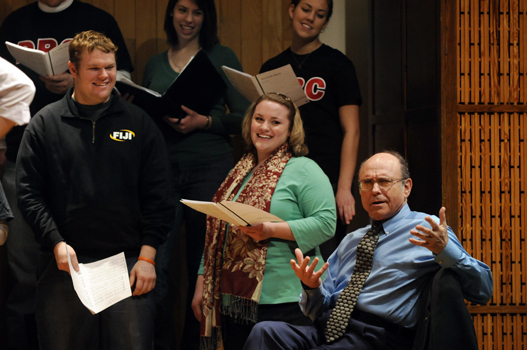 SAMUEL ADLER—2009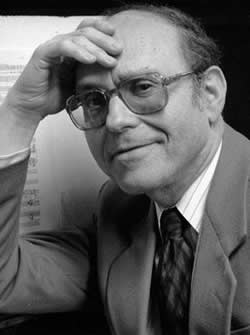 Samuel Adler is one of our most distinguished American composers, as well as one of the most influential composition teachers of the twentieth century. Inducted into the American Academy of Arts and Letters in May 2001, Adler is the composer of over 400 published works, including five operas, six symphonies, 12 concerti, eight string quartets, four oratorios, and many other orchestral, band, chamber, choral works, and songs, which have been performed all over the world. He has received commissions from many of the world's major orchestras, chamber groups, and soloists. He is also the author of three widely-used books: Choral Conducting, Sight Singing, and The Study of Orchestration. Adler has also contributed numerous articles to major magazines and books published in the U.S. and abroad.
Samuel Hans Adler was born March 4, 1928 in Mannheim, Germany, the son of a cantor and composer. He studied violin as a child. In 1939, the family fled to the United States, where Hugo Chaim Adler became cantor of a synagogue in Worcester, Massachusetts. Samuel earned degrees from Boston University, where he studied with Herbert Fromm and Hugo Norden, and Harvard University, where he studied with Aaron Copland, Paul Hindemith, Paul Pisk, Walter Piston, and Randall Thompson. He also studied conducting with Serge Koussevitzky at Tanglewood.
Adler served in the U.S. Army from 1950–1952, and founded and conducted the Seventh Army Symphony Orchestra. Because of the orchestra's great psychological and musical impact on European culture, he was awarded the Army's Medal of Honor.
After his military service, he became music director at Temple Emanu-El in Dallas,Texas, where he continued the tradition of composing Jewish music that his father began. He was also a member of the composition faculty at the University of North Texas, and music director of the Dallas Lyric Theater and the Dallas Chorale.
In 1966, he accepted a position at the Eastman School of Music, where he taught composition and conducting until his retirement in 1994, greatly influencing generations of young composers. From 1974 until his retirement, he was chair of the composition department and is now Professor Emeritus.
Since 1997, he has been a member of the composition faculty at the Juilliard School in New York City. Adler has given master classes and workshops at over 300 universities worldwide, and in the summers has taught at major music festivals such as Tanglewood, Aspen, Brevard, Bowdoin, as well as others in France, Germany, Israel, Spain, Austria, Poland, South America, Korea, and China.
Adler' s list of prizes is long, and includes a 1990 award from—American Academy of Arts and Letters, the Charles Ives Award, the Lillian Fairchild Award, the MTNA award for Composer of the Year, and a Special Citation by the American Federation of Music Clubs. In 1983, he won the Deems\Taylor Award for his book The Study of Orchestration. In 1988–1989, he was designated a Phi Beta Kappa Scholar, in 1989 he received the Eastman School's Eisenhard Award for distinguished teaching, and in 1991 he was named the Composer of the Year by the American Guild of Organists. During his second visit to Chile, Adler was elected to the Chilean Academy of Fine Arts for his outstanding contribution to the world of music as a composer. He has won grants from the Rockefeller and Ford Foundations, as well as a Guggenheim Fellowship and five MacDowell Fellowships. In 1999, he was elected to the Akademie der Künste in Germany for distinguished service to music. In May 2003, on the occasion of his 75th birthday, Adler was awarded the Aaron Copland Award by ASCAP for life-time achievement in composition and teaching. He has also been awarded four honorary doctorates—from Southern Methodist University, Wake Forest University, St. Mary's Notre-Dame, and the St. Louis Conservatory.
Adler has appeared as conductor with many major symphony orchestras both in the U.S. and abroad. His compositions are published by Theodore Presser, Oxford University Press, G. Schirmer, Carl Fischer, E.C. Schirmer, Peters Edition, Ludwig Music, Southern Music Publishers, and Transcontinental Music Publishers, and recorded on Naxos, RCA, Gaspara, Albany, CRI, Crystal, New World, and Vanguard.