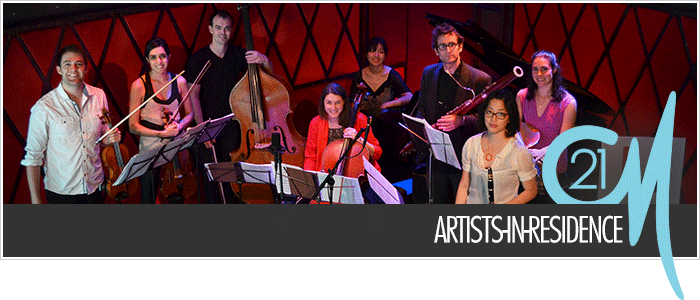 Artists-in-Residence provide great insight into the modern musical world for our undergraduate students. Working with leading 21st-century artists over a season-long residency provides DePauw musicians the opportunity to develop skills and abilities not possible in a more in-depth and personalized format.
---
Time Out NY called our 2015-2016 Artists-in-Residence, Decoda, "a new collective of some of the brightest young classical musicians in the world." This New York City-based chamber ensemble is committed to musical excellence and arts advocacy. Since its inception in 2011, Decoda has engaged audiences in schools, hospitals, correctional facilities, and concert halls around the world. This year's residency is comprised of many unique events, including interactive workshops, performances, master classes, and community outreach programs. During their time on campus, Decoda will also be working closely with the School of Music's 21CM courses: State of the Art, Entrepreneurship, and Practicum. The residency includes a collaborative performance of Decoda with the "Old-Timey Roots, New-Timey Sounds" duo, Red Tail Ring. (http://redtailring.com/)
ABOUT DECODA
The musicians of Decoda connected through the Ensemble ACJW fellowship program formed by Carnegie Hall, The Julliard School, and Carnegie Hall's Weill Music Institute in 2011. Now an Affiliate Ensemble of Carnegie Hall, Decoda continues its work as passionate performers and arts advocates, traveling to present projects with partners throughout the globe.
Clive Gillinson, the Executive and Artistic Director of Carnegie Hall, emphasizes the dual strengths of Decoda as a powerful performing chamber ensemble and educational entity, sharing that "our appointment of Decoda as the first ever Affiliate Ensemble of Carnegie Hall recognizes the quality of its work, which reflects so many of the values held by Carnegie Hall, including exceptional performances and a strong commitment to education and community programs. Having worked with these musicians since their time as Ensemble ACJW fellows, it's been inspiring for all of us to watch what they continue to accomplish as an independent ensemble and as great ambassadors for music."
Its arts education initiative encourages young musicians to utilize chamber music as a means of exploring leadership and community service. Decoda artists teach young musicians the "Decoda way" of fully engaging audiences through scripted interactive performances focused on the specific community.
DECODA VISITS
OCTOBER 5-7 – Decoda's first visit to DePauw University as Artists-in-Residence occurs on October 5-7, with a focus on community engagement. The chamber group will hold an open rehearsal of their scripted interactive performance, in addition to a seminar and workshop on interactive performances, before performing their program at a local elementary school.
MARCH 29-31 – Decoda's second visit to DePauw's School of Music on March 29-31 focuses on collaboration and creative skills. Decoda will present an open rehearsal for its collaboration with the folk duo Red Tail Ring, in addition to offering workshops on improvisation, arranging, and folk music. This visit culminates with an interactive performance of Folk and Classical music.
APRIL 14-16 – Decoda's third visit to DePauw on April 14-16 centers on their "Performance Plus" (http://decodamusic.org/performance-plus/) program. Our Artists-in-Residence will collaborate with a student group from DePauw; together, they will present an interactive performance at a local public school. The residency finishes with a final concert on Saturday, April 16 at 7:30 PM.