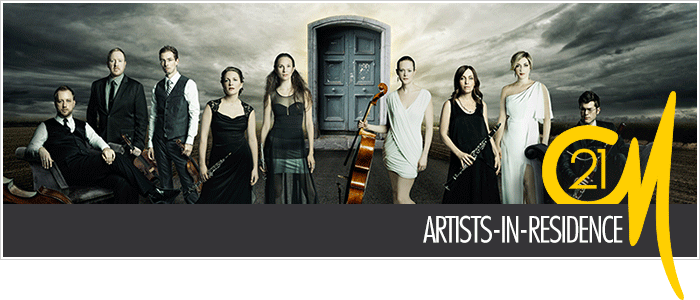 Artists-in-Residence provide great insight into the modern musical world for our undergraduate students. Working with leading 21st-century artists over a season-long residency provides DePauw musicians the opportunity to develop skills and abilities not possible in a more in-depth and personalized format.
---
Our 2014-2015 Artists-in-Residence, Fifth House Ensemble, is one of Chicago's most imaginative and innovative chamber music groups. Since its inception, Fifth House Ensemble has been committed to the mission of sharing the art of chamber music in a way that is personal, relevant, and entertaining. This year's residency is comprised of many unique events including interactive workshops, performances, master classes, and community outreach opportunities. During their time on campus, Fifth House will be also working closely with the School of Music's new 21CM courses: State of the Art, Entrepreneurship, and Practicum. The residency closes with a combined performance of Fifth House Ensemble with the Mediterranean folk band, Baladino.


ABOUT FIFTH HOUSE ENSEMBLE
Fifth House Ensemble taps the collaborative spirit of chamber music to create engaging performances and interactive educational programs, forging meaningful partnerships with unexpected venues, artists of other disciplines, educational institutions, and audiences of every type.
Fifth House Ensemble accomplishes its mission through a commitment to the following core values:
Performing at the highest artistic level through connective programming, dramatic interpretation and creative energy.

Verbally and musically communicating with audiences, allowing each performance to connect in unexpected, thought-provoking and deeply personal ways.

Upholding and revitalizing the chamber music repertoire through the performance of honored classics, undiscovered works and new music from both renowned and emerging living composers.

Developing young audiences through curriculum-integrated educational programs that encourage active listening.

Promoting musical innovation and entrepreneurship through higher-education training programs for the next generation of performers.
FIFTH HOUSE ENSEMBLE VISITS
After a successful year-long residency in 2013-2014 at DePauw University, Fifth House Ensemble makes their official return on September 9-10 to meet with individual students, lecture in classes, give master classes, and perform. They continue their involvement with the community in their second September visit, holding follow-up discussions about their previous residency and creating more tangible connections to the Greencastle community for the students to utilize.
For the spring semester, students will have the opportunity to take a credited practicum taught by the members of Fifth House. The culmination of their final campus visit, April 23-25, will be the Green Guest Artist Concert featuring Baladino on Saturday, April 25, at 7:30 p.m. in Kresge Auditorium.
The official dates for Fifth House Ensemble's residency are as follows:
September 9, 2014 - September 10, 2014
September 29, 2014 - September 30, 2014
November 12, 2014
February 12, 2015
March 11, 2015 - March 12, 2015
April 23, 2015 - April 25, 2015 (includes performance with Baladino)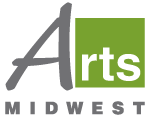 This presentation is supported by the Arts Midwest Touring Fund, a program of Arts Midwest that is funded by the National Endowment for the Arts, with additional contributions from
DePauw University and General Mills Foundation.