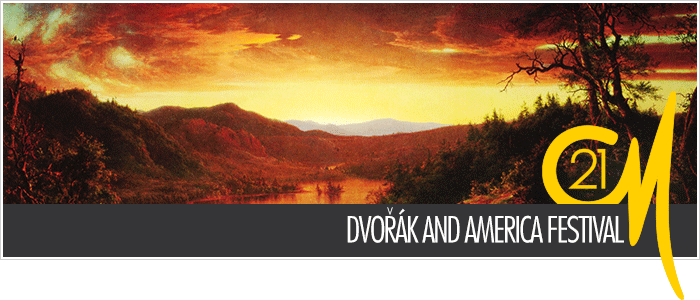 Cultural historian and award-winning author Joseph Horowitz is bringing his multi-media education project "Dvorák and America" to DePauw University School of Music. The event schedule for the weeklong festival, which explores the influence of Antonín Dvorák on American national identity at the turn of the 20th century, includes round table discussions, classroom visits, master classes with bass-baritone Kevin Deas, and three major concerts.
The DePauw Dvorák Festival is funded through a National Endowment for the Arts (NEA) grant award—one of five music programs in the state of Indiana to receive funding in the Arts Works category out of 1,515 eligible applications nationwide.
The festival will be held at the Judson and Joyce Green Center for the Performing Arts, located on the DePauw University campus (605 S. College Avenue).
Festival Schedule:
Oct. 13–15, 2014
Monday, October 13 at 5:30 p.m.

- Dinner and Discussion: "The Ethics of Cultural Appropriation," sponsored by the Janet Prindle Institute for Ethics - Prindle Institute, Great Room

Tuesday, October 14 at 11:35 a.m. - Pop-up Concert: "The Transformative Power of Study Abroad: How America Changed Dvorák" - Green Center, Great Hall

Wednesday, October 15 at 10:20 a.m. - Recital Hour Presentation: Dvorák and the "Classical Music Crisis" - Green Center, Thompson Recital Hall
Oct. 27–Nov. 2, 2014
Monday, Oct 27 at 6:30 p.m. – Kevin Deas Vocal Master Class – Green Center, Kresge Auditorium

Tuesday, Oct. 28 at 11:30 a.m. – University Roundtable: "Dvorák and the NFL"

– Pulliam Center, Watson Forum

Wednesday, Oct. 29 at 10:20 a.m. – Recital Hour Convocation: "Celebrating Harry Burleigh" – Green Center, Thompson Recital Hall
Thursday, Oct. 30 at 7:30 p.m. – Chamber Concert: Antonín Dvorák (1841-1904) and the "Indianists' Movement" Concert & Discussion: An exploration of 19th century Native American melodies and the American Identity – Green Center, Thompson Recital Hall

Friday, Oct. 31 at 11:30 a.m. – Dvorák Faculty Roundtable – Green Center, Room 1029

Saturday, Nov. 1 at 7:30 p.m. – Chamber Concert: Antonín Dvorák (1841-1904) and "Negro Melodies" Concert & Discussion: An exploration of 19th century African-American Spirituals and the American Identity

–

Green Center, Thompson Recital Hall

Sunday, Nov. 2 at 3 p.m. – Closing Concert: Dvorák and the "New World" Symphony with DePauw University Orchestra – Green Center, Kresge Auditorium