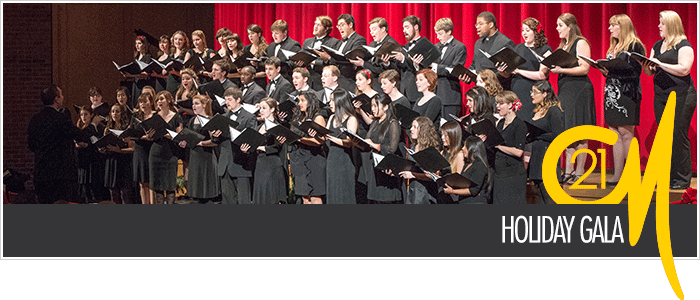 The School of Music announces the Fifth Annual Holiday Gala featuring music from various traditions performed by soloists and ensembles from the School of Music. The choirs, jazz ensemble, band and orchestra, as well as a host of chamber groups, will perform a wide array of holiday music of many traditions and styles.
This year there will be two performances of the Holiday Gala. On Saturday, Dec. 5 at 7 p.m. audiences can attend a full-length concert with reception, and Sunday, Dec. 6 at 3 p.m. the School of Music will present a shorter concert for families and children. It is rumored that Santa Claus may take a break from his hectic schedule for a brief visit to the Sunday concert.
---
General admission to the Holiday Gala is $10. Tickets for seniors, children and all students are free. The School of Music also offers a "pay what you can" option, which allows patrons to purchase tickets for any amount they can afford. Tickets can be purchase online or at the Green Center box office. For additional details, call 765-658-4827.