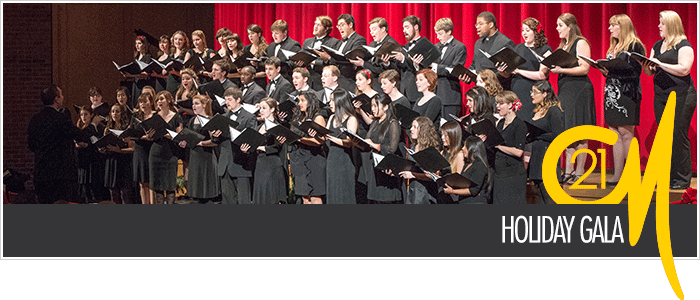 After the overwhelming community response to last year's Holiday Gala, the School of Music announces the Third Annual Holiday Gala featuring music from various traditions performed by soloists and ensembles from the School of Music. The choir, band, orchestra as well as a host of soloists and chamber groups will perform a wide array of holiday music of many traditions and styles.
This year there will be two performances of the Holiday Gala. On Saturday, December 7 at 7 pm audiences can attend a full-length concert with reception, and Sunday, December 8 at 3 pm the School of Music will present a shorter concert for families and children. It is rumored that Santa Claus may take a break from his hectic schedule for a very brief visit to the Sunday concert.
---
Several local restaurants have partnered with the School of Music to provide dinner specials on Saturday night and ensure customers arrive at the concert before 7 pm. These restaurants will also be giving out a limited number of vouchers for free tickets to the Holiday Gala.
2 West at the Inn at DePauw – A special Prime Rib Dinner will be available between 4:30 and 6:00 pm for $19.95.

Almost Home – Call in advance to make a reservation. Plan to dine at 5 pm or earlier and mention you are attending the Holiday Gala to get two desserts for the price of one.

Chief's – Mention the Banner Graphic ad for the Holiday Gala to receive a free appetizer or dessert.

Final Approach - Call in advance to make a reservation. Plan to dine at 5:30 pm or earlier.

The Fluttering Duck – Mention the Holiday Gala to receive a free soft drink.

The Hub (Bon Appetit) - The Hub will serve a special seasonal menu in the all-you-care-to-eat platform with the door price of $8.00.

Monical's Pizza – Mention the Holiday Gala to receive a free soft drink with your meal.

---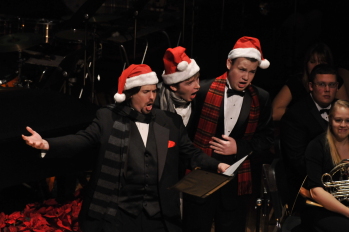 Carolers from the School of Music can also be heard in stores and restaurants on the Greencastle Square prior to the Saturday evening concert, and a reception will take place following the Saturday event.
Tickets for the Holiday Gala are $10. Tickets for children, students, and senior citizens are free. The School of Music also offers a "pay what you can" option, which allows patrons to purchase tickets for any amount they can afford. Tickets can be purchased online or at the Green Center Box Office. For additional details, call 765-658-4380.