Amy Lynn Barber
Percussion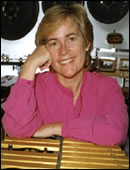 Amy Lynn Barber is Professor of Music and former Dean of the School of Music at DePauw University. A native of Massachusetts, she lived for many years in central Europe (Prague, Ljubljana, and Vienna), where she was Professor of Percussion at the Prague Conservatory for five years, an active soloist and chamber performer, and a member of the Slovenian Philharmonic.
Her solo performances include many European festivals (Prague Spring, Zagreb Biennale, Melos Ethos, European Month of Culture, etc.) and recitals and concertos in major halls with groups such as the Slovenian Philharmonic, the Prague Chamber Philharmonie, and the Croatian Wind Symphony. She has been a guest artist at percussion courses and events in England, Finland, France, Germany, Spain, Austria, the Czech Republic, Slovakia, Poland, Puerto Rico, Slovenia, Croatia, and Italy.
Ensembles which she has led have performed at PASIC (Percussive Arts Society International Convention), Euro-PASIC, Music Teachers National Association Convention, Massachusetts Music Educators Convention, Texas Music Educators Convention, and Indiana Music Educators Convention. She has led the DePauw Percussion Ensemble on tours to central Europe and Brazil, and this year will tour in China.
She has also had extensive experience as an orchestral percussionist, having played with many orchestras in New England, Texas, and Michigan, as well as the Prague Symphony, Prague Radio Symphony, and the Slovenian Philharmonic. She has worked with many outstanding conductors, including Carlos Kleiber, Seiji Ozawa, Kurt Masur, Jiri Belohlavek, Charles Mackerras, Serge Baudo, and many others.
Her special interest is contemporary solo and chamber music, and she has commissioned, premiered, and recorded over 50 new solo and chamber works from European and American composers. She has received two Fulbright professorships, IREX and NEH grants, the National Award of the Czech National Music Council, and many other honors for her work in contemporary music, and has worked closely with composers including George Crumb, John Cage, Augusta Read Thomas, Karel Husa, Tania Leon, Jake Heggie, Marta Ptaszynska, Hans Werner Henze, Chen Yi, Joseph Schwantner, and many others.
She is the founder and artistic director of The Percussion Plus Project, a unique contemporary chamber music group started in Prague in 1993. The ensemble performed throughout central Europe for several years, and is now based at DePauw University. The Percussion Plus Project gives regular concerts on campus, has performed throughout the US and in Canada, and is working on several recording projects.
An artist/clinician for Zildjian and Yamaha, Dr. Barber has performed and lectured at universities throughout the United States, and has also been on the faculties of Texas Wesleyan University and the Interlochen Arts Academy, She has degrees from Boston University, the University of Massachusetts, and the Hartt School of Music, where she earned the Doctor of Musical Arts degree. Her percussion teachers have included Alexander Lepak, Leigh Howard Stevens, Thomas Gauger, and Peter Tanner. In 2007, she received the Distinguished Alumni Award from the Boston University School of Music.