Bonnie Whiting
Percussion
Bonnie Whiting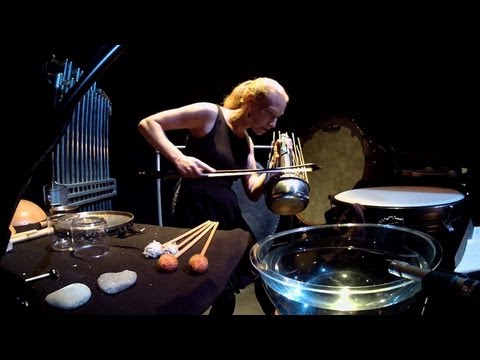 performs and commissions new music for speaking percussionist. In addition to solo projects,she works regularly with percussion group red fish blue fish. Recent projects include aseries of performances at the John Cage Centennial Festival in Washington DC, and work as a soloist in Tan Dun's Water Passion under the baton of the composer himself. In 2011, she joined red fish blue fish in premiering the staged version of George Crumb's Winds of Destiny directed by Peter Sellars and featuring Dawn Upshaw for Ojai Festival. Other notable group projects include collaborating with eighth blackbird ("Tune-in" festival at the Park Avenue Armory), the International Contemporary Ensemble (American premiere of James Dillon's Nine Rivers at Miller Theatre), and Bang on a Can (Steve Reich's Music for 18 Musicians for the LA Philharmonic's Green Umbrella Series.) Bonnie performs regularly with percussionist Allen Otte; they have presented concerts at The Stone in New York, throughout New Zealand, and at colleges and universities around the country. Her debut album, featuring an original solo-simultaneous realization of John Cage's 45' for a speaker and 27'10.554" for a percussionist, will be released by Mode Records in 2014.
A dedicated arts educator, Bonnie spent three years with Tales & Scales, a quartet combining new music, dance, and theater for family audiences, giving over 400 performances in 25 states and appearing with the Dallas, Oregon, Indianapolis, Buffalo, and Louisville orchestras. She also helped to develop several experimental music programs in Southern California: The Children's Universal Language Orchestra in Spring Valley as well as residencies at the Monarch School (for children affected by homelessness) and the inner-city Lincoln High School in San Diego.
She was a member of the Lucerne Festival Academy Orchestra in Switzerland under the direction of Pierre Boulez, and has performed throughout Europe as well as Canada and Panama. Bonnie has worked with composers Jerome Kitzke, Randall Woolf, John Luther Adams, Michael Pisaro, and Frederic Rzewski, and she champions the music of her peers. Bonnie attended Interlochen Arts Academy, Oberlin Conservatory (BM), University of Cincinnati College-Conservatory of Music (MM), and University of California San Diego (DMA.) She spent a year as Visiting Assistant Professor of Percussion at the University of Alaska Fairbanks and served as a lecturer at the University of California San Diego. She joined the faculty of the DePauw University School of Music in 2013.