Gregory Ristow
Director of the DePauw University Choirs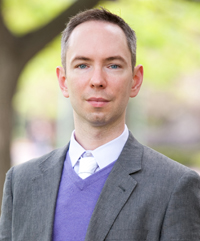 Gregory Ristow is director of choral activities at the DePauw University School of Music, where he conducts the Chamber Singers and University Chorus and teaches classes in choral conducting and choral literature. Dr. Ristow also serves as conductor of the Interlochen Singers and teaches Eurhythmics at the Interlochen Arts Camp, in Interlochen, Michigan. Previously, he served as director of choirs at Lone Star College-Montgomery (2004-2009), where he received the 2008 faculty excellence award, and at the Rochester Institute of Technology (2009-2011).
In addition to his work as a choral conductor, Dr. Ristow is in demand as a teacher of Dalcroze Eurhythmics, a method of teaching music through movement. He served as instructor of Eurhythmics at the Eastman School of Music (2009-2011), and since 2004, has frequently directed the Eastman Summer Dalcroze Institute, an intensive one-week program for teachers looking to incorporate Dalcroze Eurhythmics techniques in their teaching. He regularly serves on the faculty of the Eastman Summer Choral Conducting Institute, where he teaches Eurhythmics-based movement classes for conductors, as well as classes on using Eurhythmics in choral rehearsals.
Ristow holds the Doctor of Musical Arts degree in conducting from the Eastman School of Music, where he taught undergraduate conducting, graduate choral conducting, and was assistant conductor of the Eastman Chorale and the Eastman-Rochester Chorus. While at Eastman, Dr. Ristow received both the TA Award for excellence in teaching and the Edward Curtis Peck Award for Excellence in Teaching by a Graduate Student, the university's highest such honor. Additionally, he holds the Bachelor of Music degree in music education from the Oberlin College Conservatory, the Master of Music degree in conducting and Master of Arts degree in music theory pedagogy from the Eastman School of Music, the Dalcroze certificate from the Juilliard School (studying with Robert Abramson), and the Dalcroze License from the Longy School of Music (studying with Anne Farber and Lisa Parker). He has studied piano with Lydia Frumkin, harpsichord with William Porter, and voice with mezzo-soprano Kathryn Cowdrick.
He has sung professionally with the Houston Chamber Choir and Houston's Mercury Baroque, and conducted professionally with Houston's Foundation for Modern Music, Rochester's Gregory Kunde Chorale, and Rochester's Voices: A professional chamber choir. He also programs and runs the ear-training website Musical Mind (http://www.musicalmind.org).