Matthew Champagne
Recording Arts Specialist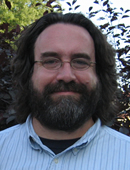 Matthew received the degrees Bachelor of Music (Louisiana State University) in composition and Master of Music (University of Louisiana) in composition and theory; he engaged in further graduate study in musicology at the State University of New York at Stony Brook, where he studied primarily experimental and electronic music of the period 1965-75. A trained bass-baritone, Matthew's performance work was divided between early and baroque music, on one hand, and twentieth-century music on the other. Prior to coming to DePauw, Matt spent a year at the University of Nebraska at Omaha teaching music technology and administering their recording studio, and seven years as a freelance classical recording engineer, primarily in the San Francisco Bay area.
Matt's recording work focuses on the interplay of performance and space. He is interested most of all in creating natural-sounding recordings which do not assert their artificiality, but instead become transparent portals to the performances they represent.
He is a voting member of the Audio Engineering Society, and his work appears in the Centaur Records catalog.