Orcenith Smith
Director of the DePauw University Orchestra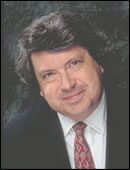 Orcenith Smith is Director of the DePauw University Orchestra. Named "Outstanding Professor of Music" three times at DePauw, he was also the inaugural recipient of the Cassel Grubb University Professorship in Music from 1999 to 2003. He has achieved success in both professional and academic settings, his concerts distinguished by passionate interpretations combined with thoughtful and diverse programming. He has conducted over 800 performances of orchestral, operatic, and choral/orchestral repertoire for which critical acclaim has come both here and abroad.

The Chicago Tribune called Smith "a gifted conductor," able to take an orchestra to "remarkable technical and artistic heights!" In Europe, critics cited his "brilliant achievement," "perfect temperament," his "sure technique" and that his "music-making was infectious!" He has led the touring DePauw University Chamber Symphony on domestic and international concerts in Japan, Austria, The Czech Republic, the United Kingdom, Spain, France, Italy, the Southeastern, Northeast and Midwest United States, and in performances at The Kennedy Center's Terrace Theatre and Carnegie Hall's Weill Recital Hall.

While teaching at DePauw, he has held several other artistic posts simultaneously, including the Music Directorship of the Chicago Youth Symphony Orchestra, during which time that orchestra rose to national recognition being featured in articles in Musical America and Symphony magazine. In 1998, he was named American Artistic Director and to the jury of the Vienna International Youth and Music Festival (Jugend und Musik in Wien). He has conducted multiple performances of the Seattle Symphony, Oregon Symphony, Louisville Orchestra and with the Indianapolis Symphony Orchestra, where he has conducted a variety of concerts including its New Music "Music in Mind," Family Concert Series, the yearly Yuletide Celebration performances, and in a unique "Side-by-Side" concert. He has been the invited guest conductor for All-State High School Orchestras in Wisconsin, Illinois, Indiana, Oklahoma, Kansas, and British Columbia in Canada, at Michigan's famed Interlochen Center for the Arts and has conducted the West Berlin Radio Orchestra, the Guildhall Orchestra and the BBC Symphony (London) in international competitions; he has also conducted the Dayton Philharmonic, the Lafayette Symphony, the Indianapolis Chamber Orchestra, the Springfield (OH) Symphony, the Carmel Symphony, and the Orange County (California) Philharmonic Society, many in education-oriented concerts.
His opera conducting at DePauw includes full productions of Le Nozze di Figaro, La Bohème, Die Fledermaus, Così fan tutte, West Side Story, Candide, Ballad of Baby Doe, Suor Angelica, Die Zauberflöte, Old Maid and the Thief, Calvary, Gianni Schicchi, Street Scene, Sweeney Todd, Kleine Mahagonny, The Mystery of Edwin Drood, Most Happy Fella, Lucinda Hero (Ott), The Coronation of Poppea, Hin und zurück, The Medium, The Daughter of the Regiment, A Game of Chance, Boris Godunov (concert version), The Bartered Bride, Beauty and the Beast (Giannini), Dido and Aeneas, H. M. S. Pinafore, L' Enfant et les Sortilèges, and The Abduction of Figaro (Schickele).
A composer and arranger, his music has been premiered and performed by professional and educational choirs and orchestras including the Terre Haute Symphony, the DePauw Symphony and Choirs, the Philharmonic Orchestra of Indianapolis, and the Indiana All-State Orchestra.
Smith frequently conducts DePauw University Orchestra performances "live" on the internet, and he has been heard on American Public Media's radio program Performance Today, conducting the Indianapolis Chamber Orchestra; Karl Haas's Adventures in Good Music, conducting David Ott's Alto Flute Concerto; and on US Airway's Ovation in-flight music program, conducting the DePauw University Symphony and Choirs in works by Grieg, Mussorgsky, and Stravinsky. For his championing of new music, the DePauw University Symphony was awarded a 1991 ASCAP Prize from the American Society of Composers, Authors and Publishers for "Adventuresome Programming."
---
Tuba
The New York Times headline read, "One Who Dares to Reveal a Tuba's Discreet Charms," when describing Orcenith Smith's recital at Carnegie Hall's Weill Recital Hall in October of 1997. National Public Radio's Performance Today featured Smith on a live, nationally-broadcast solo recital performance from Washington, D.C. in January of 1998. Smith has recorded with Dave Brubeck, Sandi Patty, and his own CD with DePauw faculty harpist, Harriet Thompson Moore. He has played with many symphony orchestras, including the major orchestras of Cincinnati and Indianapolis, and has been a soloist with orchestras in Oklahoma, Ohio, and Indiana.
Winner of several solo competitions, he has also received numerous awards and has composed solo and ensemble works for tuba. Smith received a Bachelor of Music degree in Instrumental Performance (Tuba) and Conducting (Honors Program) and a Master of Music degree in Instrumental Conducting from the University of Cincinnati College-Conservatory of Music. He has studied tuba with Samuel Green, Rex Conner, Albert Buswell and Harry Haines. Appointed 1974.