The DePauw University School of Music presents over 150 events annually. These events range from major productions to performances in the concert hall, and from guest artists to student recitals.
Innovative performances are quickly becoming the coin of the realm in the School of Music. Whether inviting the audience to sit on stage, dance or even lie down during a performance, performing without a conductor, performing with video projection, or presenting "shuffle" concerts as if heard on an iPod, the performance styles of DePauw ensembles is innovative and widely varied.
---
DePauw Opera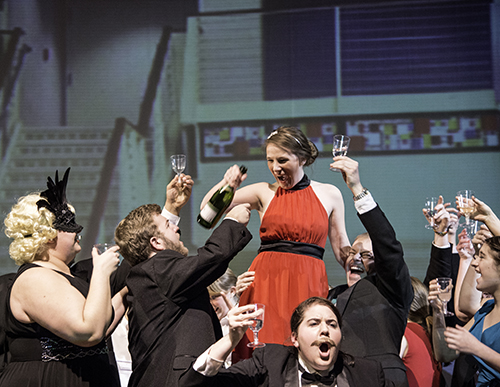 For the past three years, the DePauw Opera has been staged by international director Joachim Schamberger. These productions have made use of projection technology to create scenes and effects that fit each production. The 2012 opera, Benjamin Britten's Albert Herring, featured multimedia projections that changed based on the time of day and the action of the story. The 2013 production of Die Fledermaus was updated to take place at DePauw University during its 175th anniversary of the University. These projections featured iconic campus locations, including a window view of East College and a party set in the Great Hall of the Judson and Joyce Green Center for the Performing Arts. In 2014, DePauw Opera will present Mozart's La finta giardiniera.
Visit the DePauw University School of Music productions page.
Holiday Gala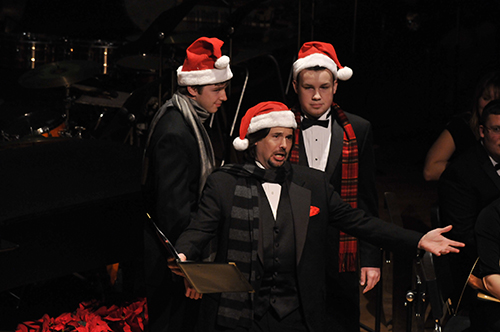 The School of Music will present the Third Annual Holiday Gala on December 7 and 8, 2013. The Gala is an evening of music for the holiday season, featuring a variety of large works, chamber music, soloists, and a few surprises. The Sunday concert presents a reduced performance for families with a visit from Santa Claus. This is an event not to be missed.
Read more about the Holiday Gala.