Coach Bill Lynch Talks of Intensity of Rivalry on Eve of 120th Monon Bell Classic
November 15, 2013
Online Monon Bell DVD; Game Day Information
On the eve of the 120th Monon Bell
Classic, the Fort Wayne News-Sentinel reports, "Bill Lynch has coached in big games. While head coach at Indiana, he took the Hoosiers to a bowl in his first season and was 2-2 in the Old Oaken Bucket game against Purdue. Still, Lynch, now head coach at DePauw University, feels like the big school rivalry doesn't match-up to the Monon Bell Classic played between his Tigers (4-5) and No. 18 Wabash College (8-1). The historic series has its 120th game Saturday at 1:07 p.m. at DePauw."
Lynch led DePauw to a 14-7 victory in the 2004 rivalry game and an 8-2 mark before leaving for Indiana after one season. He's also served as head football coach at Ball State and Butler universities.
"What is special about the Monon Bell Game and the Wabash-DePauw rivalry, it's a really important part of the fabric of both institutions," the coach tells the newspaper. "You can't go to DePauw or Wabash and don't feel the intensity of it and how important it is and how fun it is versus, like Indiana-Purdue. It's (the Old Oaken Bucket) a great rivalry, but the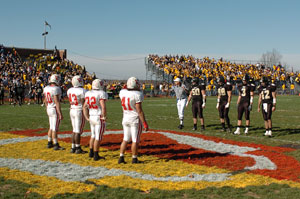 universities are so big, so many people there aren't football fans and don't really realize there is a football game on Saturday. Everybody at Wabash and DePauw knows it's Bell week and become football fans for that week."
The piece is written by Jonathan Batuello, a 2010 DePauw graduate. He notes that Wabash has won the last four battles for the Bell and is "attempting to tie the third longest win streak in the series at five and it would be the first time the school has won five straight in nearly 50 years when it did so from 1949-1954."
You'll find the complete story at the News-Sentinel's website.
More game day information is available in this preview, which includes game notes and links.

Some tickets remain available for the contest. They can be ordered online.
Tomorrow's contest will again be televised nationally on AXS TV. Rich Cellini will handle play-by-play with former NFL player and announcer Paul Maguire on color. Brad Wochomurka '04 will report from DePauw's sideline, while former Little Giants quarterback Matt Hudson will be on the visitor's side.
Pre-orders are being accepted for the 2013 Monon Bell Classic DVD. Learn more about the project and order a disc via this summary.
DePauw and Wabash first met on the gridiron in 1890. In 1932, a locomotive bell from the a locomotive bell donated by the Chicago, Indianapolis and Louisville Railroad Company, also known as the Monon Line, was donated and became the winner's trophy each year.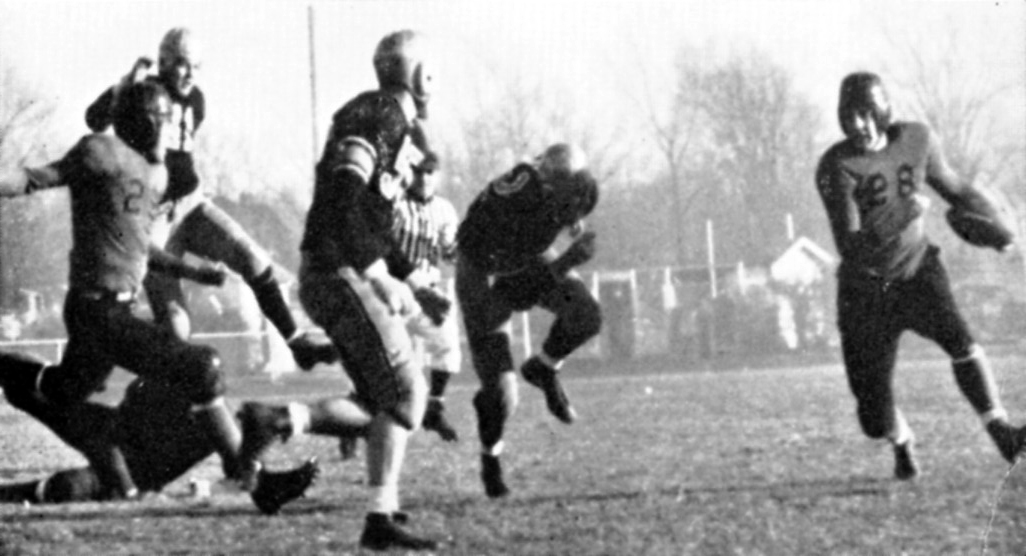 In the all-time series, Wabash holds a 57-53-9 lead. Since the Monon Bell entered the rivalry in 1932, Wabash leads, 38-37-6. (at left: an image from the 1940 Monon Bell Classic)
This year's game will mark the ninth time AXS TV will provide live, high-definition coverage of the storied rivalry game, which will be played this year at DePauw's Blackstock Stadium on the newly-dedicated Nick Mourouzis Field.
The Monon Bell Classic was voted Indiana's best college sports rivalry by fans of ESPN, and is the subject of a new book authored by Tyler James '11, The Monon Bell Rivalry: Classic Clashes of DePauw vs. Wabash. The game is also noted in the DVD collection, ESPNU Honor Roll: The Best of College Football, as one of the nation's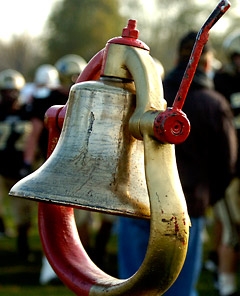 best annual clashes.
The Monon Bell was featured on CBS' Sunday Morning and has twice been spotlighted in Sports Illustrated. Theannual DePauw-Wabash clash is also detailed in Rites of Autumn: The Story of College Football, a book by Richard Whittingham. Indianapolis Monthly listed experiencing the game among "50 Things Every Hoosier Must Do" and the Indianapolis Star placed the rivalry on its "Sports Bucket List."
All 119 games to date are commemorated in video vignettes known as "Monon Memories." Created by Ken Owen '82, executive director of media relations at DePauw, the clips can be found here and on YouTube.
Access DePauw's Monon Bell Web page here.
Back