November's 121st Monon Bell Classic Will Again Be Seen Nationally on AXS TV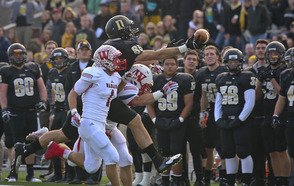 August 6, 2014

[Download Audio: "Ballad of the Monon Bell - Stereo" - 2514kb].
For a tenth year, fans of one of college football's oldest and closest college rivalries, the Monon Bell Classic, will be able to see the game across America on AXS TV. The 121st football game between DePauw University and Wabash College, which will take place Saturday, November 15, in Crawfordsville, will be presented live and in high definition beginning at 1 p.m. (EST).
AXS TV, cable's premier destination for live entertainment, has televised the previous eight Wabash-DePauw contests (2006-13) and also covered the 2003 game.
"We're thrilled to continue this great partnership,"

says Ken Owen '82, executive director of media relations at DePauw. "Our fans rave about the quality of the AXS TV coverage, and the network's ever-widening reach brings new interest to this great rivalry game every year."
"The work AXS TV has done has taken the Monon Bell Classic to new levels," adds Jim Amidon, chief of staff and director of strategic communications at Wabash College. "The telecast is easy to find no matter where you are across the nation,
and the coverage of the game, the two colleges, and the great back stories of this annual game is as good as you'll see on any network."
AXS TV founder Mark Cuban, "The Monon Bell Classic has some incredible traditions that date back to 1890 and AXS TVis thrilled to share them with our viewers. It's a unique and compelling college football rivalry and one we're happy to be a part of." (at right: 1928 game day program)
Again this year, as they have in the past, alumni and friends of the two colleges will gather on game day for telecast parties across the nation. They were held in more than 60 cities last year.
Launched in July 2012 by visionary entrepreneur Mark Cuban, AXS TV is dedicated to providing the best in music programming and festivals, comedy performances, current events and mixed martial arts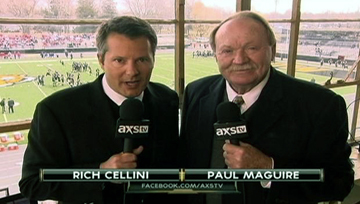 promotions. AXS TV is a partnership between Mark Cuban, AEG, Ryan Seacrest Media, Creative Artists Agency (CAA) and CBS. The network is available in the United States via AT&T U-verse, Charter, Comcast/Xfinity, DIRECTV, DISH, Suddenlink, Verizon FiOS, and other cable, satellite and telco providers. The network is also distributed in Canada and the Caribbean. For more information, visit www.axs.tv; go to the Facebook page here; and follow the company on Twitter (@axstv), on Instagram, Tumblr and YouTube.
DePauw and Wabash first met on the gridiron in 1890. In 1932, a locomotive bell from the Chicago, Indianapolis and Louisville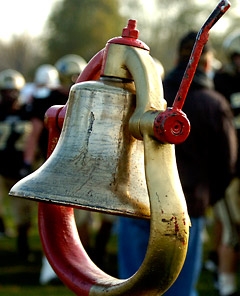 Railroad Company, also known as the Monon Line, was donated and became the winner's trophy each year.
In the all-time series, Wabash holds a 58-53-9 lead. Since the Monon Bell entered the rivalry in 1932, Wabash leads, 39-37-6.
All 120 games to date are commemorated in video vignettes known as "Monon Memories." Created by Owen, the clips can be found here and on YouTube.
To date, seventeen contests in the historic series have been captured on DVD. Available are the DVDs of the 1977, 1993, 1994 and 2000-13 Monon Bell Classics (supplies of past games are extremely limited; the 2008 package is a two-disc set including all 115 "Monon Memories" produced to that date). Order them here. The sets are a collaborative venture between DePauw and Wabash,
with Owen mastering the disc and Amidon creating the packaging and navigational menus.
The Monon Bell was voted Indiana's best college sports rivalry by fans of ESPN, and is noted in the DVD collection, ESPNU Honor Roll: The Best of College Football, as one of the nation's best annual clashes. The Monon Bell was featured on CBS' Sunday Morning and has twice been spotlighted in Sports Illustrated. Theannual DePauw-Wabash clash is also detailed in Rites of Autumn: The Story of College Football, a book by Richard Whittingham. Indianapolis Monthly listed experiencing the game among "50 Things Every Hoosier Must Do."
Last November, ESPN's College GameDay included the Monon Bell in a look at great college football rivalries.
Learn more about the history of the Monon Bell Classic here.
Back