Pulitzer Prize Winner Art Spiegelman to Discuss 'History of Comix' Wednesday
September 27, 2001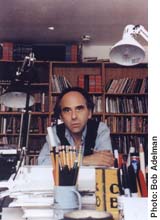 September 27, 2001, Greencastle, Ind. - Calling Art Spiegelman's work "sensational", the Los Angeles Times said the artist is "drawing illustrations for covers that are meant not just to be plainly understood but also to reach up and tattoo your eyeballs with images once unimaginable in the magazine of old moneyed taste." Famous for his contributions to the cover of the New Yorker, Spiegelman won a Pulitzer Prize in 1992 for Maus, a two-volume comic book narrative on the Holocaust. October 3-4, Art Spiegelman will bring his talents and insights to the DePauw University campus.
On Wednesday, October 3, 2001 at 7 p.m. in Kresge Auditorium, Spiegelman will present a slide talk on the history of the comic strip, "Comix 101". In the presentation, Spiegelman takes his audience on a chronological tour of the evolution of comics, all the while, explaining the value of this medium and why it should not be ignored. He believes that in our post-literate culture the importance of the comic is on the rise, for "comics echo the way the brain works. People think in iconographic images, not in holograms, and people think in bursts of language, not in paragraphs."
The following afternoon, Thursday the 4th at 1 p.m., the artist will hold an open question and answer session in Moore Theatre of the Performing Arts Center.
Spiegelman designed a blackened cover that adorned the New Yorker in the week following the terrorist attack. "The whole thing was so visual that it hit that part of your vortex in ways it could pull something out of you," he told New York's Newsday. "But on the other hand, the reverberations are so deep, people just go in and out of traumatic shock."

Art Spiegelman's work has always challenged, touched and enlightened people. The Los Angeles Timesopines, "From his Holocaust saga in which Jewish mice are exterminated by Nazi cats, to the New Yorker covers guaranteed to offend, to a wild party that ends in murder: Art Spiegelman's cartoons don't fool around."
Born in Stockholm, Sweden and raised in Queens, New York, Spiegelman taught history and aesthetics of comics at the School for Visual Arts in New York from 1979 to 1986. He is co-founder and editor of RAW, the acclaimed avant-garde comics magazine. A contributing editor to the New Yorker, Spiegelman's drawings have been published in many periodicals and have been exhibited both nationally and internationally. In addition to Maus I: A Survivors Tale and Maus II, he has also published a children's book entitled Open Me, I'm A Dog. Spiegelman and his wife, Francoise Mouly, edited the children's anthologies Little Lit and Little Lit: Strange Stories for Strange Kids.
Art Spiegelman's DePauw appearances are free and open to the public. You can visit the Art Spiegelman research page by clicking here.
Back