Hartman Center Presents Rev. Dr. Joan Parrott Wednesday
September 27, 2001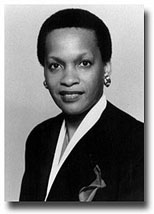 September 27, 2001, Greencastle, Ind. - The Reverend Dr. Joan S. Parrott, vice president of the Children's Defense Fund, will bring a message of service to others to DePauw University when she speaks Wednesday, October 3, at 7 p.m. in Watson Forum of the Pulliam Center for Contemporary Media. Reverend Parrott's address, entitled "Somebody Needs to Go to Lodebar," is being sponsored by The Hartman Center for Civic Education and Leadership Center to promote civic education learning through convocation.
Helping others has been Joan Parrott's life's work. She has taught fourth grade; worked with children in Niger, West Africa; served as executive director of a homeless shelter; was director of missionary recruitment for the Board of International Ministries, and volunteered with the United States Peace Corps. Dr. Parrott has also been a trailblazer: an American Baptist minister, she became the first woman ordained in the 129-year history of Bethany Baptist Church, her home church in Newark, New Jersey.
A graduate of Montclair State University in New Jersey, Parrott has also studied at Union Theological Seminary; Bossey, the Ecumenical Institute in Celigny, Switzerland; United Theological Seminary; and Harvard University's Community Builder Fellowship Program.
Dr. Parrott's talk is free and open to the public. For more information contact Sarah Hershberger at the Hartman Center, (765) 658-4620.
Back