Former VP Dan Quayle '69 Talks with CNN About His Future, Murphy Brown and Ozzy Osbourne
May 10, 2002
May 10, 2002, Greencastle, Ind. - "He is tan, he looks rested and he's only 55 years old. Might there be more politics in Dan Quayle's future?," asked CNN senior political correspondent Candy Crowley in a report that aired last night, the same day Quayle addressed the National Press Club. "'Never say never,' said the former vice-president."
In another interview with CNN's Wolf Blitzer, Quayle, a 1969 graduate of DePauw University, answered the same question. "I get to involve myself in politics when I want to. I still try to stay in close contact with the (Bush) administration and offer my private advice when asked. And I enjoy myself right now. But who knows, I still consider myself a young man -- I'm only 55 -- so we'll see."
It's been ten years since Quayle, as vice-president, delivered his famous "Murphy Brown speech." He tells Blitzer, "We have made a lot of progress on the issue I tried to address. And the issue was not single motherhood: The issue was the absence of fathers. As you recall, [in] that famous sound bite that is run over and over again, I talk about mocking the importance of fathers. And that's what I really didn't like about the show. There was no father. The message was that fathers need not be involved; fathers can just be irresponsible; fathers can go ahead and have children, but they don't have to raise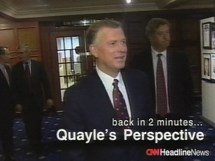 the children. Now looking back 10 years later, we have had a lot of fatherhood initiatives that have sprung up. I think of one -- the National Fatherhood Institute."
Of the fatherhood issue, "Both George W. Bush and Al Gore spoke to it within the last few years." Crowley's story states,
[DOWNLOAD VIDEO: "10 Years Later" 1400KB] "What with the Million Man March and hundreds of fatherhood initiatives, you could argue that headlines and history have shown Dan Quayle was not hopelessly out of step with time, but ahead of it."
An op-ed piece in this morning's USA Today notes, "Families are getting healthier. The percentage of U.S. children living in single-parent families has declined, and birth rates outside marriage have fallen. Laugh at Quayle if you want to, but
if he had never blasted Murphy Brown, few would have paid attention to his message. Not only was Quayle right in 1992, it turns out some folks might have been listening."
Dan Quayle was asked Thursday about The Osbournes, the popular MTV show that follows the real-life exploits heavy metal rock star Ozzy Osbourne and his family, episodes that have been described by critics as "profanity filled and bizarre." Quayle told the National Press Club, "You have to get beyond the sort of dysfunctional aspect," noting that the Osbournes are "two loving parents." To CNN's Crowley, he added,
[DOWNLOAD VIDEO: "The Osbournes" 450KB] "they do talk about curfews, they do talk about no drugs, no alcohol... so I actually found some redeeming value in this rather bizarre family relationship."
Connie Cass of the Associated Press noted, "After his speech at the National Press Club, Quayle elaborated on the moral value of watching father Osbourne, known for biting the head off a bat on stage, using satanic imagery in his act and abusing drugs and alcohol: 'In a weird way, Ozzy is a great anti-drug promotion. Look at him and how fried his brains are from taking drugs all those years and everyone will say, 'I don't
want to be like that.''"
At the Press Club, when asked about reports that NBC is wooing former President Bill Clinton to host a talk show, Quayle joked, "They're talking about $50 million. I mean, if he can get $50 million, let's see, what would I be worth? Marilyn would like to know."
You can read an AP article on Quayle's remarks by clicking here. USA Today's report is accessible by clicking here. The op-ed in USA Today is accessible here. You can read MSNBC's story here. Wolf Blitzer's CNN interview can be accessed here.
Back