Commencement Day Forecast Update
May 17, 2002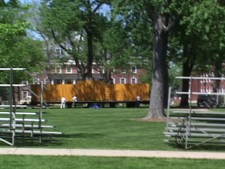 May 17, 2002, Greencastle, Ind. - What a difference a day makes, at least when it comes to the Greencastle forecast. Thursday morning, the outlook for Sunday's commencement called for scattered showers. As of noon Friday, forecasters had switched to a call of mostly cloudy, with a high of 59°.
To get the complete Greencastle weather forecast click here.
On East College lawn, a stage is being erected and temporary bleachers are being put in place for DePauw University's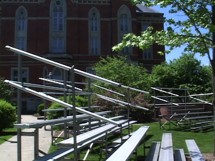 163rd annual commencement ceremony. Weather permitting, 463 seniors will take part in outdoor ceremonies that will begin at 1 p.m. If weather is inclement, or the ground is too wet from recent rains, the event will be moved indoors to the Lilly Center.
America's twenty-fourth secretary of labor, Elaine L. Chao, the first Asian American woman appointed to a President's cabinet in the nation's history, will be the featured speaker at Sunday's ceremony (seen in photo with President George W. Bush). You can read more about Ms. Chao by clicking here.
DePauw will present five distinguished individuals with honorary degrees at commencement: Elaine L. Chao - Doctor of Public Service, Nancy Ford Charles '57 - Doctor of Fine Arts, Norine Goode Johnson '57 - Doctor of Science, John F. McWethy '69 - Doctor of Journalism, and Glenn M. Swisher - Doctor of Humanities.
To learn more about the honorary degree recipients click here.
For the first time, DePauw's Office of Media Relations is producing a DVD of commencement. You can learn more, and access an online order form, here.
Back