DePauw-Led Program Puts Putnam County Residents in Touch with Technology
May 28, 2002
May 28, 2002, Greencastle, Ind. - Thanks to a program coordinated by DePauw University, Brandi Moore of Putnam County (seen at left) has a computer that will allow her to complete her education at Ivy Tech. The Community Technology Enhancement Program (CTEP) collects computer hardware from DePauw and the Putnam County community, refurbishes the equipment, and distributes it to people in need. Bob Hershbeger, assistant professor of Spanish at DePauw and coordinator of CTEP, says, "Brandi was given a refurbished unit collected during the Community Civic Clean Up Day, when we received donations of 10 PC systems and a handful of vintage Macs."
DePauw has also donated used hardware, including nine monitors that were used to create a computer lab at the Putnam County Senior Center. "What we're essentially doing is giving used equipment new life, and the people of this community new hope and opportunity," Dr. Hershberger added.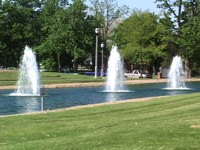 So far, we've been able to help about 11 individuals and organizations, and our work is just beginning."
In the fall, a DePauw student in the Information Technology Associate Program (ITAP) will assist with the refurbishing and delivery of machines. This summer, CTEP will host an "Internet 101" class this summer to familiarize members of the community with basic applications such as surfing the Internet and word processing.
Hershberger says the need is great for more equipment. "If you're upgrading your computer, instead of putting your current PC in the closet, put it to use through CTEP. By doing so, you're empowering one of your neighbors to learn, communicate and explore in ways they've never done before."
For more information on CTEP or to donate hardware, send an e-mail here or call Bob Hershberger at (765) 658-4745. Back