New Food Service Promises Better Quality, More Freshness & Variety; Workers Maintain Jobs, Wages & Benefits
August 8, 2002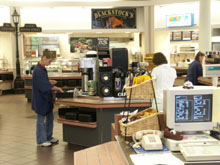 August 8, 2002, Greencastle, Ind. - Tastier, fresher foods and more flexible dining options will greet DePauw University students when they arrive on campus for the 2002-03 school year. The University, which for years has operated its own independent food service, has awarded dining services to Sodexho (NYSE: SDX), the leading provider of food and facilities management in North America, effective immediately.
[DOWNLOAD VIDEO: "Fresher, More Exciting" 861KB] "The idea is really to take our food service to another level or two," says Richard Speller, vice president for finance and administration at DePauw. "My sense is that, while I have always thought that we had good food here, I know that... there are fresher, more exciting ways to serve the students in the food service area and these companies are doing it all over the country."
[DOWNLOAD VIDEO: "World Class Opportunity" 283KB] "There's no question, the facilities are here for us to really work on the program, to bring world class service to a world class campus-- that's what I'd really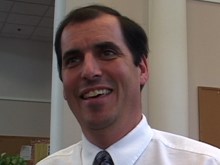 like to do in a nutshell," says Ray Veit (seen at right), named by Sodexho to be general manager of the new DePauw Food Service. He says the aim is to improve food quality, and delivery of the service,
[DOWNLOAD AUDIO: "Quality & Delivery" 178KB]"whether it be in an expanded hours [of operation, or] a fresher presentation-- and I don't mean looks, smoke and mirrors-- I mean actually preparing the food in front of someone so they'll know that it's fresh."
[DOWNLOAD VIDEO: "Just For You" 494KB] "There are certain things that are ready to go for you to grab if you're in a rush to eat quickly and get out," according to Sodexho's John Coker. "But, you have the option of customizing a stir fry just for you, or a vegetarian pasta dish with alfredo sauce just for you." While students, faculty and staff will be direct beneficiaries of the enhancements, alumni, parents, prospective students and members of the Putnam County community will also enjoy upgraded dining experiences while on the DePauw campus.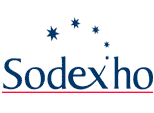 Changes, which will be implemented in stages, will eventually bring new food selections to the Hub, including a Chick-fil-A, and other "mini-restaurants" that offer specialty foods including pizza, fresh deli sandwiches and grilled selections. Similarly, Longden Hall's dining area will be transformed into an open area with "mini-restaurants" that provide a variety of foods, including international selections, classic favorites, a grill, a full-scale salad bar and a deli. In Longden, an adjoining "convenience store" will offer a Pizza Hut Express and submarine sandwich shop and groceries and, according to Sodexho, will remain open until as late as midnight. The Gate, located in Hogate Hall, will offer ten-minute take-out express service, serve dinner until 10 p.m., and stay open as late as 2 a.m. with a "pub menu" of sandwiches and appetizers.
[DOWNLOAD AUDIO: "More on The Gate" 231KB] Cafe Roy, the coffee shop in Roy O. West Library, will begin offering meals,
[DOWNLOAD AUDIO: "Cafe Roy" 189KB]"and that may be yogurt, a wrap [or] a different kind of sandwich, as well as a beverage.
As students are running helter-skelter on a tight schedule, that might fit their needs for that day," Veit says, who predicts the improvements at Longden and the Gate, in particular, will relieve some congestion the Hub has experienced in the past.
The new food service's menus will "constantly change," says Coker, adding,
[DOWNLOAD AUDIO: "Menu Feedback" 255KB]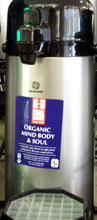 "we have a lot of different mechanisms for that. We require that our general managers on site meet with student advisory committees, food councils, student government associations a minimum of once a week." Students are also surveyed twice a year to ensure that everyone has a chance to offer feedback on food. Fair Trade Coffee, which students lobbied for last year, is now the brand that's served in the Hub.
The changes, which promise better selection, fresher foods and more flexible hours for students, also bode well for the approximately 40 people employed by DePauw food services. Sodexho is retaining all of the workers, who will maintain the same wages and benefits as they had under DePauw's management (some wage rates were actually increased to fund certain fringe benefits).
[DOWNLOAD AUDIO: "Employees' Package" 172KB]"Really, up and down the line on the benefits, we were able to duplicate what [the employees] had [under DePauw's plan]," says DePauw's Speller. "In a couple of cases, I think we were even able to exceed our benefits."
Many of the enhancements to the dining halls, which will require construction work, will take time to implement. Of the big changes, Veit says some will be put in place over
[DOWNLOAD VIDEO: "Gradual Changes" 610KB] "fall break, some of 'em maybe over Christmas break, and some maybe not until next year. I think the major components... in the Hub here, we would like to do a lot of things, but we won't be able to pull it off because we would need to totally close the facility."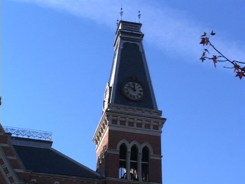 But the new general manager, and new resident of Greencastle, is excited about what's to come.
[DOWNLOAD AUDIO: "Awe Inspiring" 167KB]"It's pretty awe-inspiring. The campus is beautiful. The facilities are fantastic... It will be easy for us to bring a lot to the program."
Sodexho, with $4.9 billion in annual sales, is headquartered in Gaithersburg, Maryland, and has 130,000 employees at more than 6,000 locations across North America. You can access the company's Web site by clicking here. Sodexho is a proud endorser of the Global Sullivan Principles for Corporate Responsibility. Learn more about these principles here. Back