Wisner Kinne '36 Named Seneca County, NY's 'Citizen of the Year'
January 21, 2003
January 21, 2003, Greencastle, Ind. - Wisner P. Kinne, professor emeritus of English at Tufts University and a 1936 graduate of DePauw University, is the "citizen of the year" in New York's Seneca County after receiving an award Saturday night from the Seneca County Chamber of Commerce. An article in the Finger Lakes Times notes, "Kinne, whose ancestors were among the first settlers of the area, has been a leader in the business community and is a longtime member of the chamber. He served several terms as president and received a life membership in 1999... He graduated from DePauw University in Indiana, did graduate work at Iowa State University and received a doctorate from Harvard University. Kinne taught at the Fort Wayne (Indiana) University Extension Center, Indiana University at Bloomington and DePauw and Tufts universities."(at top: Kinne is seen in his faculty photo from the 1940 Mirage)
A Navy veteran, Dr. Kinne moved to Seneca County after retiring from teaching, and "began breeding and raising Aberdeen Angus cattle, draft horses, hay and grain. He often hired young people to work on the farm, instilling in them his love of agriculture and rural values. Besides his land, Kinne worked to improve the lives of his neighbors and community. As president of Seneca Housing Inc., he secured state and federal funding for Verona Village, a senior citizens apartment complex in Ovid; and was a charter member of the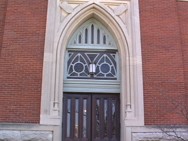 South Seneca Ambulance Corps, which he helped fund."
The newspaper also notes how the 88-year-old DePauw alumnus has "sponsored plays and musicals to raise money for local groups," served 18 years as president of the Seneca County Board of Health, and built and furnished a 4-H clubhouse that was named in memory of his wife, Barbara. Kinne has also volunteered with the Seneca County Farm Bureau, Ovid Federated Church, New York State Forestry advisory committee, and the National Forest at Hector.
"When I came to Seneca County, Wisner was one of the people I turned to for background information," says the chamber's executive director, Dominic Christopher. "His vast knowledge of the county is a tremendous resource." "How do you introduce a legend?" asked Vern Sessler, who had the task of presenting Kinne at Saturday's award dinner. "It takes half a page in the Finger Lakes Times to tell a few of things he did. He's just been such a leader in south Seneca and with the Seneca County Chamber of Commerce. He's done so much that the list goes on and on. All I can say is it's a great honor to introduce him."
In accepting the award, Kinne recalled his friend, former President John F. Kennedy.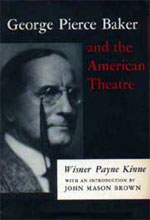 "The thing you've got to keep in mind is we must help each other," Kinne said. "Always, that was the case. Jack (Kennedy) was a very good example of someone always thinking about someone else."
Wisner Kinne, who taught at DePauw from 1937 to 1944, has authored a number of articles and books, including George Pierce Baker and the American Theatre, which was first published in 1954 by Harvard University Press and remains in print as a standard reference source (available via Amazon.com and Barnes & Noble.com).
You can read the newspaper article previewing the awards dinner by clicking here. Read the story on the event itself here.
Back