Orange County Register Notes Audiobook Release of Vernon Can Read!
January 26, 2003

January 26, 2003, Greencastle, Ind. - "I was 3 years old when Robert Maddox discovered, to his astonishment, that Vernon E. Jordan Jr. could read," writes Sandy Bauer in today edition of California's Orange County Register. "Maddox was the racist president of the First National Bank of Atlanta. Jordan was a student at DePauw University who, like many young black men at that time, was unable to find work anywhere else and had taken a job as Maddox's chauffeur," adds Bauer in an article noting the release of Vernon Can Read!, a memoir by 1957 DePauw graduate Vernon Jordan, as a "book on tape."
The newspaper writer says that the story of Jordan, who served as president of the National Urban League and has served on the front lines of America's civil rights movement, tells "what [Jordan] believes is 'the most important American story of the second half of the 20th century.'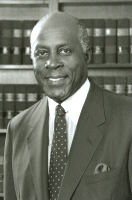 Many Americans - even ones as middle-aged as I - either missed or failed to adequately comprehend the greatest civil-rights struggles this nation has seen. Jordan's memoir, Vernon Can Read!, is a way to relive it through his very personal account."
Read the article online by clicking here.
The audiotape and compact disc editions of the book, 14 hours long and featuring Vernon Jordan reading, are available via Amazon.com and Barnes & Noble.com.
As Vernon Can Read! was first released, Mr. Jordan returned to DePauw October 27, 2001 to deliver the Old Gold Convocation in Kresge Auditorium.
You can read about that speech, and download video and audio clips of his remarks, by clicking here.
Jordan, senior managing partner at Lazard LLC, was presented with the Trumpet Award at ceremonies January 6 (read more here).
In October, Vernon Jordan was cited as one of "The Top 50 African Americans On Wall Street" by Black Enterprise, and in July, Forbes listed Jordan as the ninth most powerful black executive in America.
Back