Giving Nature of Brenda Stiers '60 Profiled in Greenwich Magazine
February 7, 2003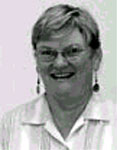 February 7, 2003, Greencastle, Ind. - "When she attended DePauw University in Indiana, it was the first time Brenda Stiers stayed in one place for four straight years," Greenwich magazine writes of the 1960 DePauw graduate who is executive director of the YWCA of Greenwich, Connecticut. The daughter of an Army man, Brenda Enmeier Stiers had moved almost every year growing up. Settled at DePauw "she made the most of it, becoming involved in several campus activities. One of them, the YWCA, would change her life."
The lengthy story continues, "In charge of recruiting students to visit elderly patients in nursing homes (Stiers was chapter vice president), she met a young man who proved to be a real hit with the ladies. That young man is her husband Thomas [DePauw '60], pastor of First Congregational Church, and, she says, 'He is still loved by all the old ladies.'" The magazine notes, "The seniors' outreach program at DePauw had another effect: 'I got hooked on helping older people,' she says."
Brenda Stiers has spent her life in service to others, founding the Sage Advocate Program in New Haven, Connecticut, teaching gerontology at Yale Divinity School (where she received her master's degree), as director of the Greenwich Commission on Aging, leading the Fairfield County Council of Churches and Synagogues, and serving as executive minister of New York City's Riverside Church. With her colleague at the YWCA, Wendy Blumenthal, Stiers is working to break down barriers between people and cultures and bring people together through outreach programs such as a community-wide celebration of Dr. Martin Luther King's birthday.
"Greenwich is growing out of the old vision and into a new vision of what it is," Dr. Stiers tells Greenwich.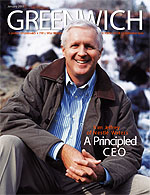 Listening to the names being read at the last graduation ceremony at Greenwich High School, Stiers says she thought, "My heavens, at least one-quarter of the graduates do not fit the Greenwich stereotype of race or ethnicity. Even though we have a certain image of ourselves, I think that image is expanding and growing more international and inclusive. To me that's a great gift because that's what the world is like."
You can read a short synoposis of the article at the magazine's Web site by clicking here (a subscription is required to read the full story).
Back