Former Professor 'Walking on Air' After Acquittal by Egypt's Top Court
March 18, 2003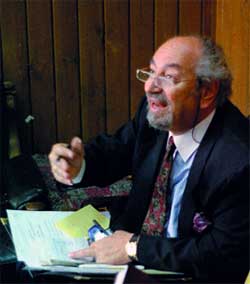 March 18, 2003, Greencastle, Ind. - "Thank God, thank God," cried out human rights advocate and former DePauw University professor Saad Eddin Ibrahim today as Egypt's highest court acquitted him of a variety of charges, including tarnishing Egypt's image -- charges that he had been convicted of twice previously in trials that were criticized internationally. An Associated Press article notes, "Ibrahim, who holds American and Egyptian citizenship and taught at DePauw University in Greencastle, Indiana, from 1967-74, spent eight months in prison after his first conviction and had been jailed since the July conviction."
The 64-year-old Ibrahim told reporters, "I feel I am walking on air. I was confident of the court's decision and of my innocence. The court's decision is the climax of Egypt's sublime judiciary. I am grateful and hope that no other intellectual will go to prison because of his opinions. It is a victory for democracy and human rights issues," he said.
The professor, whose wife Barbara (Lethem) graduated from DePauw in 1971, "was arrested in June 2000 with 27 associates, who worked with him at the Ibn Khaldun Center,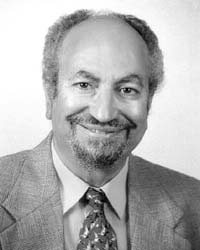 an independent think tank Ibrahim established in 1988," the AP report. "A security court convicted him in May 2001 of tarnishing Egypt's image, embezzlement and accepting foreign money without government approval. He was sentenced to seven years in prison, appealed and was found guilty again in July in a retrial. He again was sentenced to seven years. Egypt's highest court was his last judicial option for appeal."
Human rights organizations condemned the convictions, and in August, the U.S. called for Dr. Ibrahim's release and President Bush said requests for additional American aid to Egypt would be ignored as long as the professor remained jailed. This morning, U.S. ambassador to Egypt David Welch said in a statement that the United States "wholeheartedly welcomes the decision to dismiss the case against Dr Ibrahim and his co-defendants. We are very pleased that this long ordeal is now over and Dr Ibrahim is now free to continue his work and to receive the medical attention he needs."
Read more about today's developments in the San Francisco Chronicle by clicking here. Other stories can be found at the Web sites of Radio Netherlands, WAVY-TV,
the Winnipeg Sun and Middle East Online.
DePauw University has remained steadfast in support of Dr. Ibrahim. In late October, more than 70 protesters, many of them alumni and students of DePauw University, demonstrated outside of the Egyptian Cultural Center in Washington, D.C. in support of Dr. Ibrahim (read more here). The Middle East Times ran a February 4, 2002 story entitled, "Ex-students rally to Ibrahim's cause." You can read more about it by clicking here. DePauw was also mentioned in a December article in the London Review of Books, accessible here.
Back