Alumnae Gift Enhances Art Center, Honors Namesake
August 28, 2003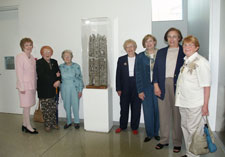 August 28, 2003, Greencastle, Ind. - Two ceramic works by celebrated Putnam County artist and former DePauw University professor, the late Richard E. Peeler, are now part of the permanent collection at the art center that bears his name. Members of the Eta Alumnae Chapter of Alpha Gamma Delta underwrote the purchase of two Richard Peeler ceramics, which have been accessioned into DePauw's permanent collection. (in photo, l-r: Mary Jane Monnett '60, Ida Mae Youse, Dorothy Stickle '30, Fauneil Stewart '52, Gwen Bottoms, Jayne Williams, Marj Peeler)
"Most of the local alumni were well acquainted with Dick Peeler and his wife Marj, so this seemed most appropriate," says Fauneil Stewart, a 1952 DePauw graudate and member of the Eta Alumnae Chapter of Alpha Gamma Delta. "When Eta Alumnae return to the campus and tour the Peeler Art Center, they will be able to view the artwork donated by Eta Chapter and take pride in their continuing contribution to the DePauw campus. Since Mr. Peeler was a local artist with a longstanding connection to DePauw, we feel this commenerative gift will benefit both the
county and college communities," she added.
The Richard Peeler creations that the women have provided DePauw are Architectural Fantasy, a stoneware reduction circa 1979; and Ovoid Pot with Stylized Bird Design, another stoneware reduction, which was created by Mr. Peeler in 1959 and is a gift of Alpha Gamma Delta's 1958 graduating class in memory of Donna Stillwell Clapp.
The Eta Alumnae Chapter of Alpha Gamma Delta also provides college scholarships to young people in the area. "Although our chapter has closed, the scholarships and the gift of artwork truly keep our legacy alive. Alpha Gamma Delta has always been committed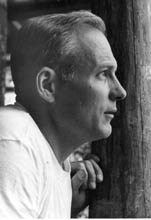 to scholarship and community service and we're thrilled to be able to continue reaching out."
A 1949 graduate of DePauw, Richard E. Peeler returned to his alma mater in 1958 to teach ceramics, sculpture and photography. He retired in 1972, and with his wife and partner, Marj, worked as a full-time potter in Putnam County until his death in 1998.
DePauw dedicated its new art building in his name on October 11, 2002. Christine Plank Rales, a 1974 DePauw graduate and a former student of Professor Peeler, and Steven M. Rales '73, are the major donors who made the art building possible (read more here and here).
Back