Alumni: Sign Up for e-Mail for Life
December 25, 2003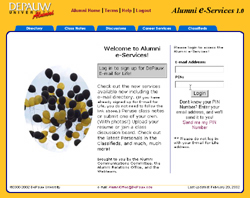 December 25, 2003, Greencastle, Ind. - The DePauw University Alumni Association is pleased to announce an important new service for all alumni: e-mail for Life. Your permanent DePauw e-mail address is now available. To register with DePauw Alumni e-Services, click here.
With your DePauw e-Mail for Life address, you will:
Always be able to contact your classmates
They will always be able to contact you
And you will never again have to notify your entire address book when your e-mail address changes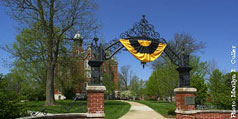 Here's how it works: Your DePauw e-Mail for Life is a forwarding service. Although DePauw will not maintain an e-mail account for you, the University will forward any message sent to your e-Mail for Life address. Just give your DePauw e-Mail for Life address to everyone in your address book, and you will never have to change it again. And it's free –- a benefit of your membership in the DePauw Alumni Association.
To use the service all you have to do is maintain a "real" e-mail address (AOL, Yahoo, hotmail or another ISP) and –- most importantly -– give that address to DePauw Alumni e-Services. Your e-mail address is maintained on a password-protected list, and the University never gives alumni e-mail addresses to third parties.
Registration is a two-step process. First you log in with your current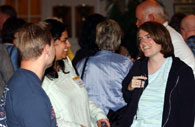 e-mail address and PIN number. If you don't know your PIN number, click "send me my PIN number." It will come quickly in a return message (if you do not have an e-mail address on record with DePauw, you will be prompted to answer a few questions to identify yourself as an alumna/us). Then you can sign in and register for e-mail for Life.
With this DePauw forwarding service, your fellow alumni and friends will always be able to contact you. Your account will follow this format: FirstnameLastName_1990@alumni.depauw.edu (LastName for women will be maiden name). Again, you can register right now by clicking here. If you have any questions or suggestions for improving the service, please send an e-mail here or call (765) 658-4294.
Back