Helping Others "A Way of Life" for Susan Campbell McCully '68
July 1, 2004

July 1, 2004, Greencastle, Ind. - Susan Campbell McCully, president of WH Long Rental Management and Builders and a 1968 graduate of DePauw University, says it was her parents who showed her at a young age that volunteering makes the world a better place. "That was just a way of life," McCully tells the Journal and Courier of Lafayette, Indiana. "That's what you did. It was part of being a part of the community." She is the subject of a lengthy profile in the newspaper, headlined, "Helping others is just a way of life for McCully."
Jeff Washburn writes that McCully's "philosophy of volunteering centers on church, children, culture and community. She says volunteering has helped her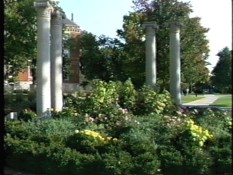 develop a personality that she describes as quiet and shy. 'When I started to volunteer, it was more for a selfish reason than anything else,' McCully said. 'It is a way for me to become involved with other people. 'I am very shy, so it gives me an organized way to sit down with people and actually have something to talk about that is of common interest. Most of my friends come from doing that. For that reason, it's how I get something out of it.'"
Susan McCully serves on the board of the Lafayette Museum of Art and co-chairs the museum's next major fundraiser, is on the board of directors for Court
Appointed Special Advocates (CASA) volunteers, and volunteers at Central Presbyterian Church.
Washburn writes, "Having lived in Lafayette for more than 30 years, McCully believes it is her civic duty to give back to the community in which she and her family members have made a living. 'If you are part of the community, part of your responsibility is to do things only volunteers can do,' McCully said."
Read the complete story, which includes a color photo of Susan McCully, by clicking here. McCully received a 2004 "Salute to Women" Award from the YWCA of Greater Lafayette. Learn more here Back