New York Times Praises New Book by Cathy Day '91
July 18, 2004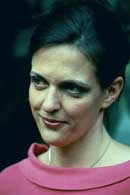 July 18, 2004, Greencastle, Ind. - In her new book, The Circus in Winter, 1991 DePauw University graduate Cathy Day "succeeds in appropriating much of the garish pungency of the world of freaks, geeks and sideshow Houdinis without succumbing to its ready banalities," writes Gary Krist in a New York Times review published today. Krist says that while many circus-related books gravitate toward cliche, "This is one circus act that doesn't rely on dependable gimmicks to keep the audience amused." Access the complete review by clicking here.
Released earlier this month, The Circus in Winter is earning very strong reviews. Writing in today's Kansas City Star, Jeffrey Ann Goudie states, "Cathy Day has an authoritative narrative voice, whether she is writing about old-fashioned circuses, fast-pitch softball, gypsies who stay at KOA campsites or railroad workers shut in rooms watching videotapes of passing railroad cars." The reviewer says Day's work is "rich, dense and layered,
a circus poster come to life, then faded into a dream portal to lost adventure" (read more here; a free registration is required).
"Even a three-ring circus doesn't have as much going on in it as The Circus in Winter by Cathy Day," opines Terry Mapes in Ohio's Mansfield News Journal. "Her relatives were once circus people, some of whom stayed behind in Peru after the circus closed for good. She has heard circus stories all her life. Now she has crafted her own in the semi-fictional town of Lima, Indiana, winter home of the Great Porter Circus. Her short stories [are] weird, wacky and wonderful just like a circus should be." The critic states the book "is a fine collection of stories by a promising new writer" (read more here).
Cathy Day, assistant professor of English at the College of New Jersey, credits DePauw English professor Tom Chiarella with inspiring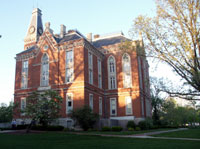 her to begin work on The Circus in Winter. When it came time to write her senior thesis, Day recalls, "Tom said, 'You're from that weird circus town, right? Why don't you write about that?'... I don't know if I would have written The Circus in Winter without the encouragement of DePauw faculty members. They taught me to see my hometown with a writer's eyes... Back in 1991, I remember saying to Tom, 'I have no idea why this interests me so much,' and he said, 'You don't now, but someday you will.' As always, he was right."