Prof. Kevin Howley's Victory at Sea? to Premiere Thursday, Newspapers Note
August 22, 2004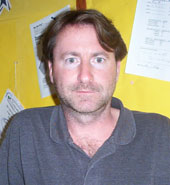 August 22, 2004, Greencastle, Ind. - "Frustrated by media coverage of George W. Bush's forced march to war and angered by staged events like the infamous toppling of Saddam Hussein's statue in Baghdad, Kevin Howley wasn't content to simply watch and seethe," begins an article in Indiana's Bloomington Alternative. Thomas P. Healy writes, "Armed with a Ph.D. in telecommunications from IU and access to the Pulliam Center for Contemporary Media at DePauw University, where he serves as an assistant professor of communication arts and sciences, Howley produced Victory at Sea? Culture Jamming Dubya, a documentary film that deconstructs Bush's infamous May 1, 2003, 'Top Gun' photo op aboard the USS Abraham Lincoln, where he announced 'an end to major combat operations' in Iraq." The project will have its world theatrical premiere this Thursday, August 26, at 7 p.m. in the Monroe County Public Library. The screening is free and open to the public.
The story notes that Dr. Howley "sent out a call for assistance to colleagues and students at DePauw. A handful of students helped transcribe the speech, and three faculty members -- Dave Bohmer, director of the Pulliam Center, Jonathan Nichols-Pethick, a lecturer in communications studies, and Bernard Batto, professor of religious studies, agreed to provide commentary... Howley said that a rough cut preview for students earlier this year drew mixed

responses. 'One of the students said, 'This is clearly partisan!' and I said, 'Yes, we're trying to counteract what you see 24/7 -- there's no critique of this in the mainstream media.' Another student said she felt really stupid that she hadn't thought about this stuff, 'I told her not to feel stupid because we're immersed in the stuff we're beginning to critique,' Howley said. He urges his students (and all viewers of the film) to take one step back for a more critical perspective. 'Begin to engage media in away that is more informed, more ethical and much more nuanced,' he said."
Read the complete story by clicking here.
Today's Bloomington Herald-Times also promotes the screening. Access the item here. In May, Professor Howley's film aired on Free Speech TV. Learn more in this story.
Back