Wabash Reclaims Monon Bell, 41-26
November 10, 1984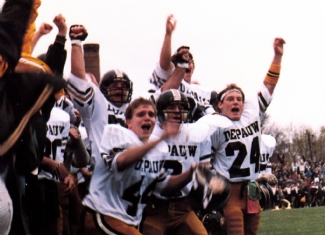 November 10, 1984, Crawfordsville, Ind. - Wabash scrapped back from a 26-20 deficit and scored three straight touchdowns to defeat DePauw, 41-26, in the 1984 Monon Bell Classic.
View a "Monon Memory" of game highlights, produced by Ken Owen '82, director of media relations at DePauw, here:

[Download Video: "1984 Monon Memory" - 3801kb].
Visit the Monon Bell Web page and read more about the history of the classic rivalry, by clicking here.
Back