Report: Karen Koning AbuZayd '63 to Lead UN Agency for Palestinian Refugees
June 26, 2005
June 26, 2005, Greencastle, Ind. - "Secretary-General Kofi Annan has appointed Karen [Koning] AbuZayd, the acting head of the UN agency for Palestinian refugees, to the top post in the organization, a senior UN official said Friday," reports the Jerusalem Post of the 1963 DePauw University graduate. "The official spoke on condition of anonymity because the appointment has not yet been announced. AbuZayd began her humanitarian work in 1981 with the United Nations High Commissioner for Refugees dealing with refugees from Uganda, Chad and Ethiopia, as well as other African conflict spots."
In April, AbuZayd was appointed acting commissioner-general of the United Nations Relief Works Agency, "helping oversee from her base in Gaza the education,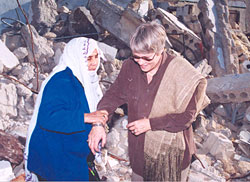 health, social services and micro-enterprise programs for 4.1 million Palestinian refugees," the newspaper adds. "AbuZayd earned her Bachelor of Science at DePauw University in Indiana and her Master of Arts in Islamic Studies at Canada's McGill University." She received an honorary Doctor of Public Service degree from DePauw in 2001.
Read the complete story by clicking here.
Back