"We Learned A Lot at DePauw," John Norberg '70 Writes in Newspaper Column
June 26, 2005
June 26, 2005, Greencastle, Ind. - "I recently attended my 35th reunion at DePauw University," writes John Norberg in his column in today's Journal and Courier of Lafayette, Indiana. "You can stop counting. I'll tell you. I graduated in 1970 -- the year of the Beatles breakup, the year Monday Night Football debuted, the year of Midnight Cowboy, Janis Joplin, Vietnam and Kent State ... A good number from our class returned for the reunion, and it was wonderful to see friends from so many years ago, which is a nice way of calling them 'old' friends."
Norberg continues, "Reunions are always fun. After lunch, each person was asked to stand and tell about themselves. I imagined what people would say... 'Founded my first company in 1975, sold it for $1.5
billion in 1993; Nobel Prize, 1986; honorary degrees from 17 universities...' How could I measure up to these people? But that's not how it went at all. Everyone actually talked about marriages, kids, grandkids -- life! It's interesting how values come into focus over a lifetime."
The columnist adds, "At commencement, speakers tell graduates to go forth and succeed. But nobody tells them that 35 years later they will return and measure their success and the quality of their life in their marriages, their children, their grandchildren and what they have contributed to the people around them. I guess we learned a lot at DePauw after all. As I remember less and less about what I did yesterday, I find myself remembering more and more about what I did 35 years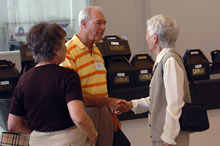 ago. We have a special bond with the people we knew when we were young and our lives were just beginning. It's a strong bond that neither distance nor time can ever break. The Class of '70 rocks!"
Access the complete column at the newspaper's Web site.
For an article on Alumni Reunion Weekend 2005, with audio clips and links to a photo gallery, click here.
Back