Columnist Cites Prodigal Summer by Barbara Kingsolver '77 as 'Favorite Book'
July 5, 2005
July 5, 2005, Greencastle, Ind. - In the News-Record of Greensboro, North Carolina, columnist Cathy Weaver lists 1977 DePauw University graduate Barbara Kingsolver's Prodigal Summer as her "favorite book of the year." "The lives of three incredibly strong women are woven together in this amazingly beautiful, spiritual and graceful book. During the past four years friends, strangers and even one of my physicians have recommended this book to me, so I finally read it. It is one of the most profound stories of love, grace and strength that I have ever read," writes Weaver in an article that provides recommendations for summer reading.
"If you want a treat, listen to the book on audiotape or compact disc as read by the author," Weaver continues. "Her southern voice is soothing and enchanting. I didn't want this book to end. Other books by Kingsolver that have been recommended to me include Pigs in Heaven and The Poisonwood Bible. While I haven't read these books, I have been forewarned that while The Poisonwood Bible is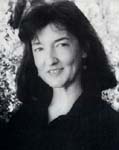 a powerful, life-changing book, it is a challenging story to grasp. Start with Prodigal Summer and work your way to The Poisonwood Bible," she recommends.
Access the complete text at the newspaper's Web site.
Barbara Kingsolver's other books include The Bean Trees, Small Wonder and Last Stand: America's Virgin Lands. She delivered the commencement address to graduates of Centre College in May. Read more in this previous story.
Back