Richard Reck '71 Joins Interactive Intelligence Board of Directors
July 5, 2005
July 5, 2005, Greencastle, Ind. - Richard A. Reck, founder and president of Business Strategy Advisors LLC and 1971 graduate of DePauw University, has joined the board of directors of Interactive Intelligence Inc. Reck had been a partner with KPMG LLP for nearly 30 years until his retirement from the firm in 2002.
"Dick brings an incredible amount of technology industry experience, and a significant background working with high-growth software companies," says Donald E. Brown, president and chief executive officer of Interactive Intelligence. "His many years with KPMG, coupled with his current business, will allow him to make a strong contribution to our board, and the strategic direction of the company. As a management team we are pleased to have attracted someone of Dick's caliber, and we look forward to the role he will play in our continued growth."
"In my review I found Interactive Intelligence to have some distinct advantages in the market," Reck notes. "The innovative technology, breadth of products, and strength of management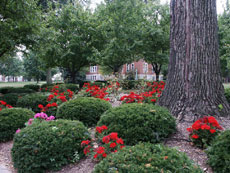 are all contributors to establishing what I found to be a well-positioned company. I'm looking forward to working with the other board members, and to contributing to the company's ongoing success."
An announcement at Yahoo! Finance notes that "Reck is also a member of the board of directors of Merge Technologies, a public health care software and information company; Greenbrier & Russel, a private information technology services company where he serves as chairman; Sivox Technologies Inc., a private call center training and quality software company; LiquidGeneration, a private media and Internet services company where he serves as chairman; the Illinois Information Technology Association (formerly the Chicago Software Association); and other civic organizations."
It continues, "Reck received a bachelor of arts degree in mathematics from DePauw University and a

master's of business administration in accounting from the University of Michigan. Reck has been listed in 'Who's Who In The Computer Industry,' as one of the Crain's Chicago Business 'Chicago's 100 Most Influential Technology Players' ... and is listed among the top 100 people of Chicago's high tech economy by I-Street.
Read more by clicking here. Interactive Intelligence is a global developer of business communications software. Visit the company online here.
Back