Don Daseke '61 Appointed Chair of ApartmentMatching.com
July 13, 2005
July 13, 2005, Greencastle, Ind. - "Building on an impressive career spent in real estate, Don Daseke has been appointed chairman of ApartmentMatching.com," begins a news item at Yahoo! Finance on the 1961 graduate of DePauw University. ApartmentMatching.com is the nation's only automated multiple listing service for the apartment industry.
"Don has plenty of entrepreneurial experience helping guide a real estate company to unprecedented heights and new gains," says James Briscoe, a member of ApartmentMatching.com's board of directors. "Under his leadership, we expect to take those same steps in bringing us to the forefront of the online consumer matching marketplace."
The article notes, "Daseke was the founder, chairman and CEO of Walden Residential Properties, Inc., a Real Estate Investment Trust listed on the New York Stock Exchange until its sale for $1.7 billion in 2000. He received his Bachelor of Arts from DePauw University and a Masters of Business Administration from the University of Chicago's Graduate School of Business."
"My real estate experience has shown me that most apartment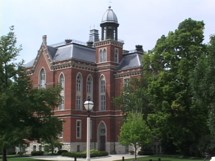 owners simply do not do enough to connect with their prospective residents," Daseke says. "We intend not only to bridge that gap, but to overhaul it. Our internet solutions are going to provide a significant boost and upgrade to both the online apartment shopper and community owner."
Read more by clicking here. Don Daseke presented a Robert C. McDermond Center for Management and Entrepreneurship Lecture at DePauw in 2001. A story with audio clips can be accessed here.
Back