Barbara Kingsolver '77 Writes of Trip to Peru in World Ark
July 15, 2005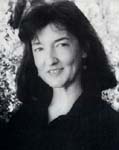 July 15, 2005, Greencastle, Ind. - "What I never really understood before this trip ... is what it means to pass a newly secured future on to a neighbor," writes Barbara Kingsolver in the July/August issue of World Ark, a journal published by Heifer International. Heifer is a charitable organization that promotes sustainable development to end world hunger. Kingsolver, best-selling author and 1977 graduate of DePauw University, writes of her participation in a Heifer study tour to Peru.
"The eradication of poverty involves more than satisfying physical needs," Kingsolver states. "It means reaching, somehow, the soul of a woman who has lost husband and children and describes her entire life with the single word 'poor.' Her grief goes beyond hunger, I imagine, into a sense of human irrelevance. To trust that our lives have meaning, every one of us needs to effect some tangible change in the world. It's why I

donate to Heifer. Why should I think I'm alone in that desire?"
Access the lengthy article by clicking here.
Barbara Kingsolver, author of the Pulitzer Prize-nominated The Poisonwood Bible and other books including Prodigal Summer, The Bean Trees, and Last Stand: America's Virgin Lands, a collaboration with National Geographic photographer Annie Griffiths Belt, delivered the commencement address at Centre College in May. Read more in this previous story.
Back