Kayla Lanham '05 Brings Art and Educational Outreach to the Putnam County Museum
July 7, 2006
July 7, 2006, Greencastle, Ind. - "It was obvious there was a real need and interest in arts programs in Putnam County," says Kayla Lanham, an intern at the Putnam County Museum and 2005 graduate of DePauw University, whose contributions to the museum are noted in today's edition of Greencastle's Banner-Graphic. The story describes how Lanham -- who double majored in art history and English writing at DePauw -- put together the "art walk" in the museum and designed and administers a summer arts program for children, "Art on the Move."
Tomorrow at 10 a.m., the second of three Art on the Move sessions will take place. Entitled, "Oh, The Places We Would Go!," it will have children make handmade books about trips they would like to take. Afterward, each book will be displayed in a special exhibit at the museum. The third installment, "I Love a Parade!," is set for July 22. It will offer kids a chance to learn about the history of and ideas behind parades. Afterward, they will design and march in their own parade, which friends and family can watch in the Museum parking lot.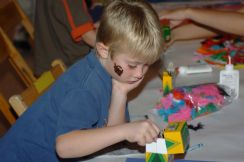 "Lanham, now a graduate student at IU pursuing her master's degree in art administration, said she is very interested in museums and the arts interacting with the community," writes Ashley Hardin. Lanham tells the newspaper, "I think there is a huge need for arts programs for people of all ages. "It's especially important for young children on a developmental level."
Read the complete story by clicking here. For more information about the "Art on the Move" summer program, call the Putnam County Museum at (765) 653-8419 or click here.
Several DePauw students helped the museum prepare for its grand opening, which took place May 13. Intern Cassie Brogan '06 worked with local elementary teachers to craft a brief history of education in the county, as well as a curriculum around famous Greencastle resident, Edith Browning, who is known as the "Chewing Gum Lady." Bonner Scholar Ryan May '08, adapted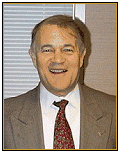 past exhibits for the museum's new space, including the new facility's first special exhibit, Veteran's History. Cynthia Sandoval '06, also a Bonner Scholar, spent several hours packing the museum's collection for the move, as well as researching topics for a future exhibit on the National Road in Putnam County.
Retired astronaut and 1959 DePauw University graduate Joseph P. Allen (seen at left) will speak at a fundraiser for the Putnam County Museum August 5. Learn more in this previous article.
Back