Tigers Down Amherst, Advance to 'Elite Eight' of NCAA Tournament
March 14, 2008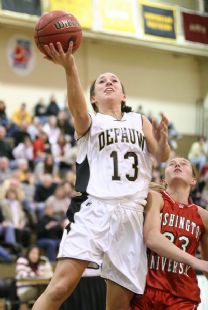 March 14, 2008, Whitwater, Wis. - Cassie Pruzin's 26 points and 10 rebounds led DePauw University to a 68-63 victory over Amherst College tonight in the semifinals of the NCAA Division III women's basketball tournament. With the win, sixth-ranked DePauw advances to the Division III quarterfinals for the third consecutive year.
The Tigers, the defending national champions, are now 28-3 on the season and have won 17 straight. Gretchen Haehl had 14 points and Jenna Fernandez added 10.
DePauw takes on Wisconsin-Whitewater Saturday at 7 p.m. CDT (8 p.m. Eastern time).
For comprehensive coverage, visit the team's Web page.
The Boston Globe reports, "Amherst College hung with defending national champion and sixth-ranked DePauw (28-3) for 40 minutes, but the Lord Jeffs couldn't close it out, ending their season with a 68-63 loss in Whitewater, Wis. Shaina Pollack had a career-high 29 points for the Jeffs (27-3). DePauw faces University of Wisconsin-Whitewater (27-3), a 96-69 winner over Simpson."
The Tiger squad, led by coach Kris Huffman, was featured on last night's 10 p.m. WXIN/FOX news broadcast. A story which includes video clips can be accessed here.
Back