Council Recommends Renaming Indy Airport to Honor Weir Cook '16
June 3, 2008
June 3, 2008, Greencastle, Ind. - A move to rename the Indianapolis Airport in honor of H. Weir Cook, a member of DePauw University's Class of 1916 and military hero, has taken a step foward. Last night, the Indianapolis City-County Council voted 25-3 "to approve a proposal to recommend that Indianapolis International Airport be renamed to Indianapolis Weir Cook International Airport when the new terminal opens later this year," reports the Star.
"Weir Cook gave an incredible service to our country, fighting in both World War I and World War II," says Bob Cockrum, president of the City-County Council. "Combining the Airport's old name and new name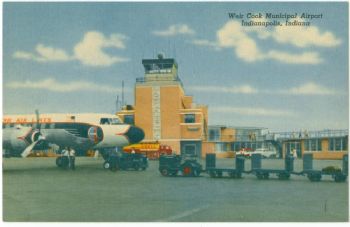 honors not just Weir Cook, but all veterans who have served our country and serve as role models for future generations." (at right: vintage postcard of Weir Cook Municipal Airport)
In 1944, a year after Lt. Col. Cook's death, the Indianapolis airport was named for him. However, in 1976, the name was changed to Indianapolis International Airport. Veterans groups, including the Military Officers Association of America-Indiana Council of Chapters, have been lobbying for the Aiport Authority to reinstate the tribute to Cook by naming the new airport after him.
"Cook, born in Hancock County in 1892, was an aviator who shot down seven German planes during World War I.

He was middle-aged when World War II broke out, but he volunteered and was killed in a plane crash near an air base in New Caledonia in 1943," note the Star's Brendan O'Shaughnessy and Tom Spalding. "Airports that made changes to their titles recently include Atlanta (which added the name of former Mayor Maynard Jackson), Baltimore (Supreme Court Justice Thurgood Marshall) and New Orleans (musician Louis Armstrong)."
Access the full story at IndyStar.com.
Learn more about the efforts to rename the airport in honor of Weir Cook in this previous article.
Back