Indiana BMV and Commissioner Ron Stiver '96 "Winning Awards and Getting Rave Reviews"
July 24, 2008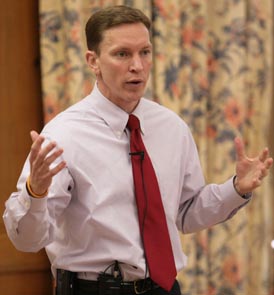 July 24, 2008, Greencastle, Ind. - Indiana's Bureau of Motor Vehicles, "once known for long waits, scandals and non-existent customer service, is now garnering national awards for service," reports the Fort Wayne Journal Gazette. "The credit for the significant improvements in service largely belongs to the current commissioner, Ron Stiver, and his administrative team," adds the newspaper.
A 1996 graduate of DePauw University, Stiver oversaw a series of "improvements that led to the agency winning the 2008 Customer Service Excellence Award from the American Association of Motor Vehicle Administrators." The piece declares, "The BMV used to be the epitome of government bureaucracy at its worst, but now the state agency is winning awards and getting rave reviews from its customers. Stiver is right to congratulate his employees on a job well done, but he is also right when he reminds them
that the job is not done."
The Indianapolis Star's editorial board also praises Stiver, who "brought to fruition the vision of an agency that functions as well, if not better, than most private businesses." It adds, "What once was a broken agency now is an example of how well government can work when the public demands accountability and elected leaders are forced to listen."
In an April 15 Robert C. McDermond Lecture at his alma mater, Stiver stated,

[Download Video: "Ron Stiver '96 on DePauw" - 522kb] "DePauw is where I started to love to learn ... I had these bright classmates, great professors who were committed, I'd be able to get office hours with them -- all those things, you don't get that at other places. And I really just wanted to start learning and understanding, whether it was game theory, whether it was Keynesian versus Friedman economics ... whether it was, you know, ethical theory and learning about Aristotle and Socrates ... all things."
It was on the Greencastle campus that "my fire was lit," Stiver, who was a Management Fellow, recalled. "And it really
hasn't stopped." He added that a DePauw education "was a gift for me. I was inspired by a group of teachers and a football coach who gave a 190-pound center a chance."
Read more and access video and audio clips from Ron Stiver's appearance, in this previous story.
In 1995, Stiver was named named one of four Burger King Scholar-Athletes of the Week during the national telecast of the Sugar Bowl. Learn more here.
Back