'[re]wind 4.0: Contemporary Video Art, 2000-2009' at Peeler through May 10
January 28, 2009
Also: 'Melissa Pokorny: Ultra,' January 28 - March 1
January 28, 2009, Greencastle, Ind. — "[re]wind 4.0: Contemporary Video Art, 2000-2009," the first in a series of four exhibitions that survey the history of contemporary video art from its beginnings in the 1960s through the current day, opens today at DePauw University's Richard E. Peeler Art Center and will be on view through May 10. The exhibition is free and open to the public. (left image: Julian Meltzer and David Thorne with Rami Farah, not a matter of if but when: brief records of a time when expectations were repeatedly raised and lowered and people grew exhausted from never knowing if the moment was at hand or was still to come, 2006; courtesy of the artists and Steven Turner Contemporary, Los Angeles)
Over the past four decades, video has played an increasingly central role in artistic production throughout the world, and has proven to be one of the most challenging and innovative of contemporary art forms. Artists emerging from the revolutionary
ferment of the 1960s -- a time when the boundaries separating "traditional" art practices were becoming blurred -- were quick to explore the potential of portable video technology, the first new moving image format to emerge since the invention of film. The 1970s was defined by work that was more personal and political, a time when video changed from a raw, performance-based medium to a vehicle of psychological and imaginative play. (at right: Nevin Aladag, Raise the Roof, 2007; courtesy of the artist and Gitte Weise Galerie, Berlin)
When an array of special effects was introduced in the 1980s, there emerged a new painterly tendency that was built on early experiments with image processing that were pioneered by artists during the 1960s. Images became layered, surreal and the focus shifted to the tactile and mesmeric qualities of abstraction and surface patterning. During the 1990s, video art broke through into the mainstream of the museum and gallery system, taking up a central position as the twentieth century came to a close.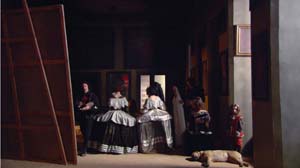 This series of four exhibitions -- presented in reverse chronological order -- will survey the various tendencies and movements that make up the story of video art, from its beginnings in the 1960s as an unwieldy, one-take, black-and-white recording medium, to an infinitely flexible means of social, political and personal documentation. The first exhibition in the series, [re]wind 4.0: Contemporary Video Art, 2000-2009, explores the increasingly hybridic nature of the medium during the first decade of the twenty-first century, a time when artists are producing works that combine video with film, computer art, graphics, animation, virtual reality, and a wide range of other digital applications. [re]wind 4.0 features exceptional video works by a global roster of artists that demonstrate the influence that video art has had on artistic practice over the past four decades, and testifies to the pivotal role and ubiquitous presence that the medium has in the contemporary global art world. (above left: Eve Sussman, 89 Seconds at Alcázar, 2004; courtesy of the West Collection, Oaks, Pennsylvania)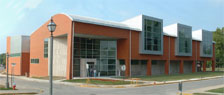 The artists featured in the exhibition include Nevin Aladag (Beriln), Carlos Amorales (Mexico City), David Claerbout (Brussels/Berlin), Joan Jonas (New York), William Kentridge (South Africa), Julia Meltzer and David Thorne (Los Angeles), Oliver Michaels (New York), Pipilotti Rist (Zurich), and Eve Sussman (Brooklyn).
The galleries at the Peeler Art Center are open Tuesday through Friday from 10 a.m. to 4 p.m.; Saturday 11 a.m. - 5 p.m.; and Sunday 1 - 5 p.m., and are closed during University breaks and holidays.
For more information, visit DePauw galleries online.
Back